Population Ecology
Page
5
They are affected by many factors, such as competition for resources, territoriality, disease, predation, toxic wastes, and intrinsic factors.
In crowded populations, increasing population density intensifies competition for resources and results in a lower birth rate.
Slide 30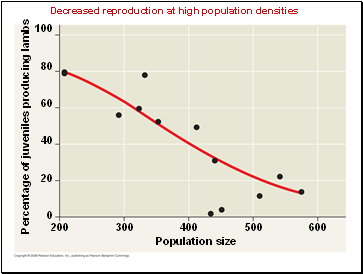 Decreased reproduction at high population densities
Population size
100
80
60
40
20
0
200
400
500
600
300
Percentage of juveniles producing lambs
Slide 31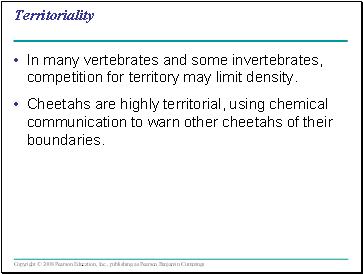 Territoriality
In many vertebrates and some invertebrates, competition for territory may limit density.
Cheetahs are highly territorial, using chemical communication to warn other cheetahs of their boundaries.
Slide 32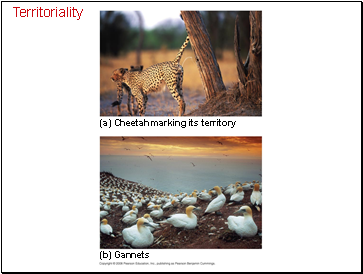 Territoriality
(a) Cheetah marking its territory
(b) Gannets
Slide 33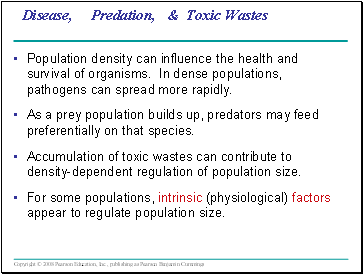 Disease, Predation, & Toxic Wastes
Population density can influence the health and survival of organisms. In dense populations, pathogens can spread more rapidly.
As a prey population builds up, predators may feed preferentially on that species.
Accumulation of toxic wastes can contribute to density-dependent regulation of population size.
For some populations, intrinsic (physiological) factors appear to regulate population size.
Slide 34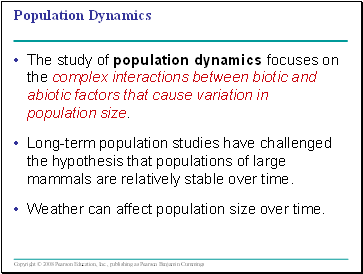 Population Dynamics
The study of population dynamics focuses on the complex interactions between biotic and abiotic factors that cause variation in population size.
Long-term population studies have challenged the hypothesis that populations of large mammals are relatively stable over time.
Weather can affect population size over time.
Slide 35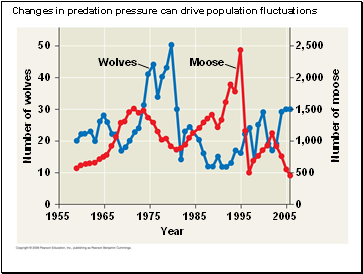 Changes in predation pressure can drive population fluctuations
Wolves
Moose
2,500
2,000
1,500
1,000
500
Number of moose
0
Number of wolves
50
40
30
20
10
0
1955
1965
1975
1985
1995
2005
Year
Slide 36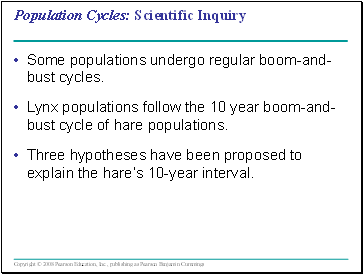 Population Cycles: Scientific Inquiry
Some populations undergo regular boom-and-bust cycles.
Lynx populations follow the 10 year boom-and-bust cycle of hare populations.
Three hypotheses have been proposed to explain the hare's 10-year interval.
Slide 37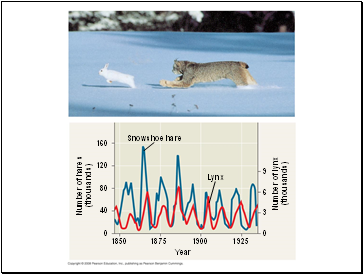 Snowshoe hare
Lynx
Number of lynx