Of Mice and Men
Page
5
Many people immigrated to America in search of a new life for themselves or their families.
Many others immigrated to escape persecution or poverty in their homeland.
Slide 33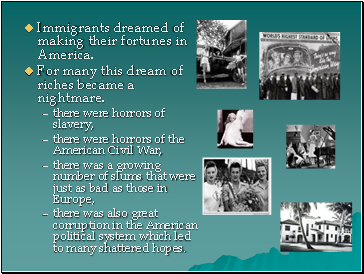 Immigrants dreamed of making their fortunes in America.
For many this dream of riches became a nightmare.
there were horrors of slavery,
there were horrors of the American Civil War,
there was a growing number of slums that were just as bad as those in Europe,
there was also great corruption in the American political system which led to many shattered hopes.
Slide 34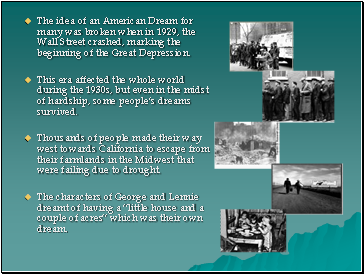 The idea of an American Dream for many was broken when in 1929, the Wall Street crashed, marking the beginning of the Great Depression.
This era affected the whole world during the 1930s, but even in the midst of hardship, some people's dreams survived.
Thousands of people made their way west towards California to escape from their farmlands in the Midwest that were failing due to drought.
The characters of George and Lennie dreamt of having a "little house and a couple of acres" which was their own dream.
Slide 35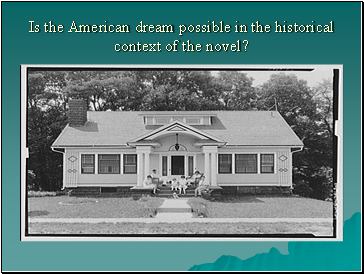 Is the American dream possible in the historical context of the novel?
Slide 36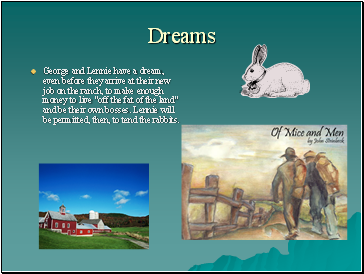 Dreams
George and Lennie have a dream, even before they arrive at their new job on the ranch, to make enough money to live "off the fat of the land" and be their own bosses. Lennie will be permitted, then, to tend the rabbits.
Slide 37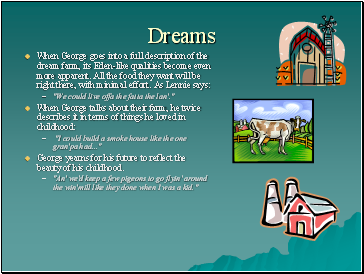 Dreams
When George goes into a full description of the dream farm, its Eden-like qualities become even more apparent. All the food they want will be right there, with minimal effort. As Lennie says:
"We could live offa the fatta the lan'."
When George talks about their farm, he twice describes it in terms of things he loved in childhood:
"I could build a smoke house like the one gran'pa had ."
George yearns for his future to reflect the beauty of his childhood.
"An' we'd keep a few pigeons to go flyin' around the win'mill like they done when I was a kid."
Slide 38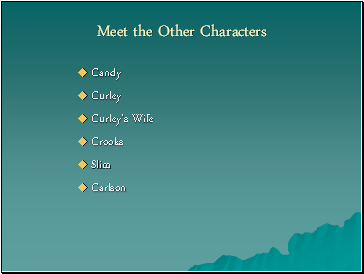 Meet the Other Characters
Candy
Curley
Curley's Wife
Crooks
Slim
Carlson
Slide 39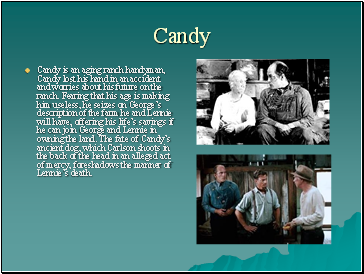 Candy
Candy is an aging ranch handyman, Candy lost his hand in an accident and worries about his future on the ranch. Fearing that his age is making him useless, he seizes on George's description of the farm he and Lennie will have, offering his life's savings if he can join George and Lennie in owning the land. The fate of Candy's ancient dog, which Carlson shoots in the back of the head in an alleged act of mercy, foreshadows the manner of Lennie's death.