Of Mice and Men
Page
7
Slide 45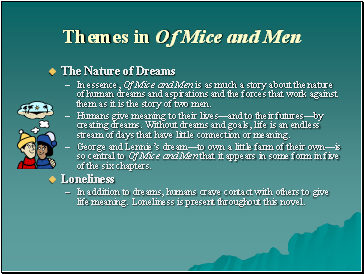 Themes in Of Mice and Men
The Nature of Dreams
In essence, Of Mice and Men is as much a story about the nature of human dreams and aspirations and the forces that work against them as it is the story of two men.
Humans give meaning to their lives—and to their futures—by creating dreams. Without dreams and goals, life is an endless stream of days that have little connection or meaning.
George and Lennie's dream—to own a little farm of their own—is so central to Of Mice and Men that it appears in some form in five of the six chapters.
Loneliness
In addition to dreams, humans crave contact with others to give life meaning. Loneliness is present throughout this novel.
Slide 46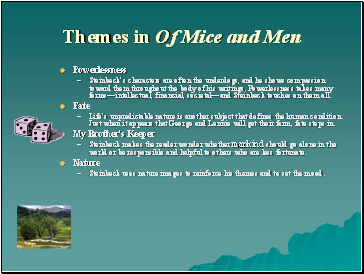 Themes in Of Mice and Men
Powerlessness
Steinbeck's characters are often the underdogs, and he shows compassion toward them throughout the body of his writings. Powerlessness takes many forms—intellectual, financial, societal—and Steinbeck touches on them all.
Fate
Life's unpredictable nature is another subject that defines the human condition. Just when it appears that George and Lennie will get their farm, fate steps in.
My Brother's Keeper
Steinbeck makes the reader wonder whether mankind should go alone in the world or be responsible and helpful to others who are less fortunate.
Nature
Steinbeck uses nature images to reinforce his themes and to set the mood.
Slide 47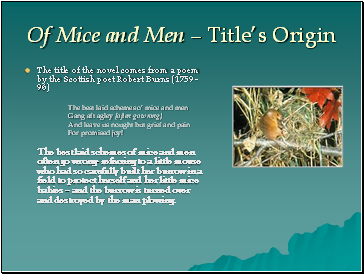 Of Mice and Men – Title's Origin
The title of the novel comes from a poem by the Scottish poet Robert Burns (1759 -96)
The best laid schemes o' mice and men
Gang aft agley [often go wrong]
And leave us nought but grief and pain
For promised joy!
The best laid schemes of mice and men often go wrong- referring to a little mouse who had so carefully built her burrow in a field to protect herself and her little mice babies – and the burrow is turned over and destroyed by the man plowing.