DNA - An overview
Page
3
Proof That the "Transforming Principle" is DNA
In 1944, Avery, Macleod, and McCarty published the results of extensive and laborious expt.
They confirmed through the experiments that "transforming particle is DNA".
In a highly purified DNA from Type IIIS cells was treated with:
1. Deoxyribonuclease (DNase)
2. Ribonuclease (RNase)
3. Protease.
Slide 15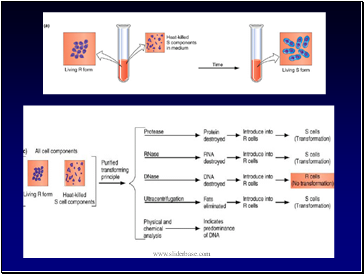 Slide 16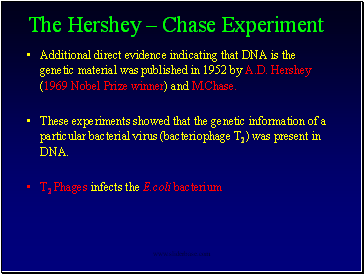 The Hershey – Chase Experiment
Additional direct evidence indicating that DNA is the genetic material was published in 1952 by A.D. Hershey (1969 Nobel Prize winner) and M.Chase.
These experiments showed that the genetic information of a particular bacterial virus (bacteriophage T2) was present in DNA.
T2 Phages infects the E.coli bacterium
Slide 17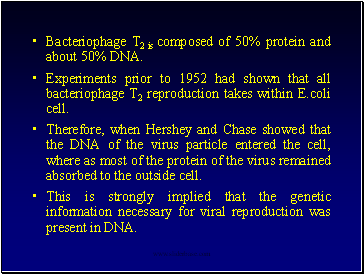 Bacteriophage T2 is composed of 50% protein and about 50% DNA.
Experiments prior to 1952 had shown that all bacteriophage T2 reproduction takes within E.coli cell.
Therefore, when Hershey and Chase showed that the DNA of the virus particle entered the cell, where as most of the protein of the virus remained absorbed to the outside cell.
This is strongly implied that the genetic information necessary for viral reproduction was present in DNA.
Slide 18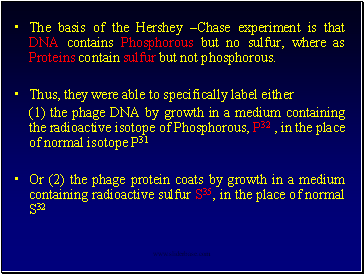 The basis of the Hershey –Chase experiment is that DNA contains Phosphorous but no sulfur, where as Proteins contain sulfur but not phosphorous.
Thus, they were able to specifically label either
(1) the phage DNA by growth in a medium containing the radioactive isotope of Phosphorous, P32 , in the place of normal isotope P31
Or (2) the phage protein coats by growth in a medium containing radioactive sulfur S35, in the place of normal S32
Slide 19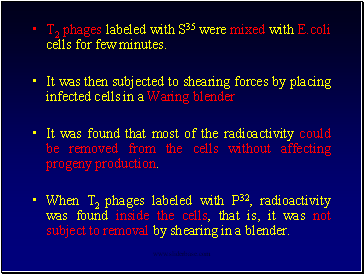 T2 phages labeled with S35 were mixed with E.coli cells for few minutes.
It was then subjected to shearing forces by placing infected cells in a Waring blender
It was found that most of the radioactivity could be removed from the cells without affecting progeny production.
When T2 phages labeled with P32, radioactivity was found inside the cells, that is, it was not subject to removal by shearing in a blender.
Slide 20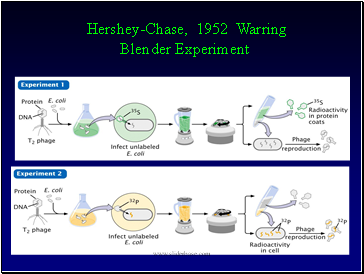 Hershey-Chase, 1952 Warring Blender Experiment
Slide 21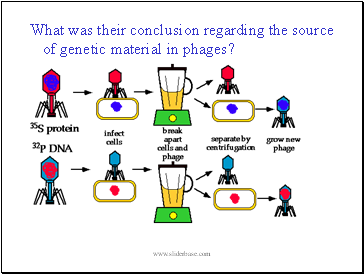 What was their conclusion regarding the source of genetic material in phages?
Slide 22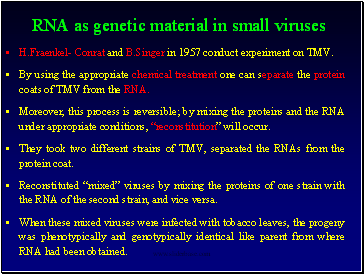 RNA as genetic material in small viruses