The Chemistry of Acids and Bases
Page
1
Slide 1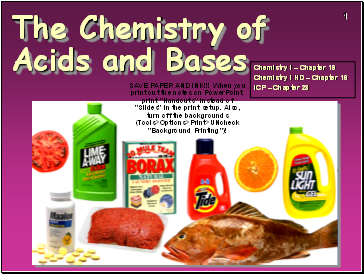 The Chemistry of Acids and Bases
Chemistry I – Chapter 19
Chemistry I HD – Chapter 16
ICP – Chapter 23
SAVE PAPER AND INK!!! When you print out the notes on PowerPoint, print "Handouts" instead of "Slides" in the print setup. Also, turn off the backgrounds (Tools>Options>Print>UNcheck "Background Printing")!
Slide 2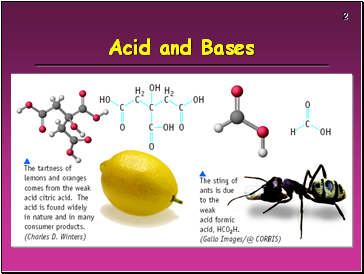 Acid and Bases
Slide 3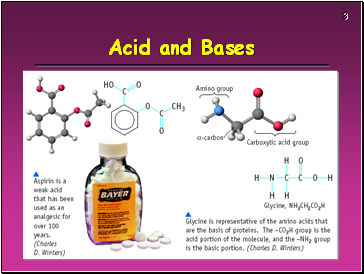 Acid and Bases
Slide 4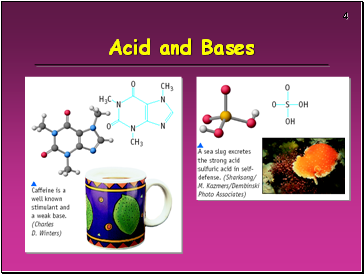 Acid and Bases
Slide 5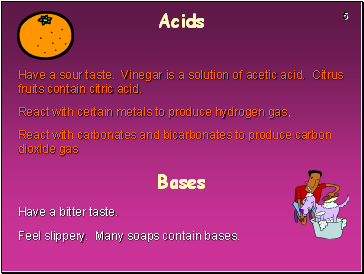 Acids
Have a sour taste. Vinegar is a solution of acetic acid. Citrus
fruits contain citric acid.
React with certain metals to produce hydrogen gas.
React with carbonates and bicarbonates to produce carbon
dioxide gas
Have a bitter taste.
Feel slippery. Many soaps contain bases.
Bases
Slide 6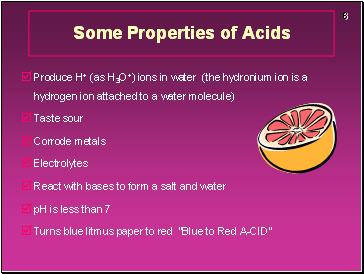 Some Properties of Acids
Produce H+ (as H3O+) ions in water (the hydronium ion is a hydrogen ion attached to a water molecule)
Taste sour
Corrode metals
Electrolytes
React with bases to form a salt and water
pH is less than 7
Turns blue litmus paper to red "Blue to Red A-CID"
Slide 7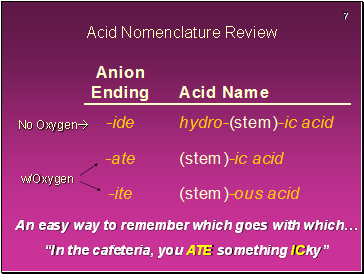 Acid Nomenclature Review
No Oxygen
w/Oxygen
An easy way to remember which goes with which…
"In the cafeteria, you ATE something ICky"
Slide 8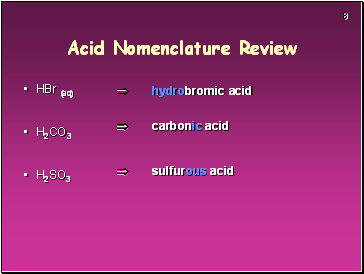 Acid Nomenclature Review
HBr (aq)
H2CO3
H2SO3
 hydrobromic acid
 carbonic acid
 sulfurous acid
Slide 9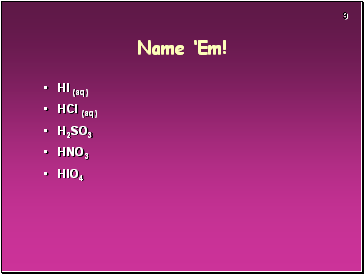 Name 'Em!
HI (aq)
HCl (aq)
H2SO3
HNO3
HIO4
Slide 10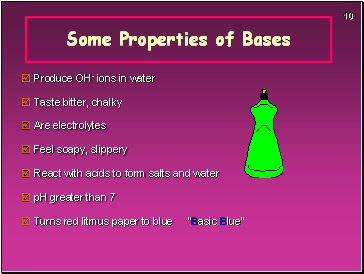 Some Properties of Bases
Produce OH- ions in water
Taste bitter, chalky
Are electrolytes
Feel soapy, slippery
React with acids to form salts and water
pH greater than 7
Turns red litmus paper to blue "Basic Blue"
Slide 11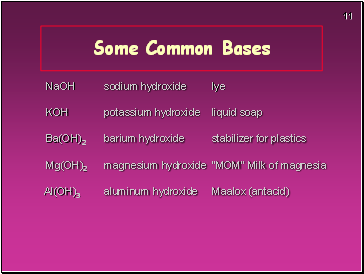 Some Common Bases
NaOH sodium hydroxide lye
KOH potassium hydroxide liquid soap
Ba(OH)2 barium hydroxide stabilizer for plastics