The Chemistry of Acids and Bases
Page
8
Amount of NaOH in final solution must also = 0.15 mol NaOH
Volume of final solution =
(0.15 mol NaOH) / (0.50 M) = 0.30 L
or 300 mL
Slide 72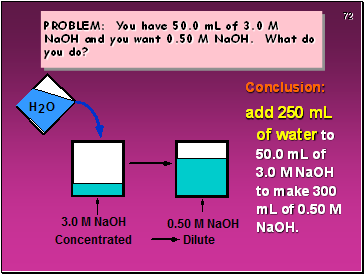 PROBLEM: You have 50.0 mL of 3.0 M NaOH and you want 0.50 M NaOH. What do you do?
Conclusion:
add 250 mL of water to 50.0 mL of 3.0 M NaOH to make 300 mL of 0.50 M NaOH.
Slide 73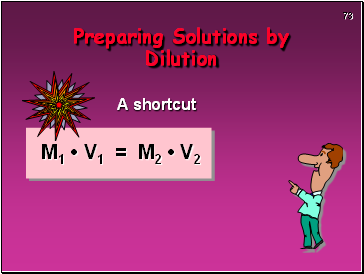 A shortcut
M1 • V1 = M2 • V2
Preparing Solutions by Dilution
Slide 74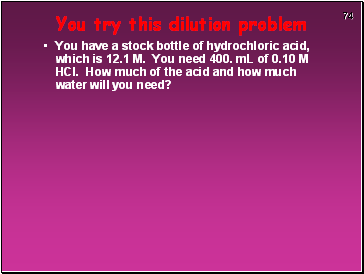 You try this dilution problem
You have a stock bottle of hydrochloric acid, which is 12.1 M. You need 400. mL of 0.10 M HCl. How much of the acid and how much water will you need?