The Chemistry of Acids and Bases
Page
2
Mg(OH)2 magnesium hydroxide "MOM" Milk of magnesia
Al(OH)3 aluminum hydroxide Maalox (antacid)
Slide 12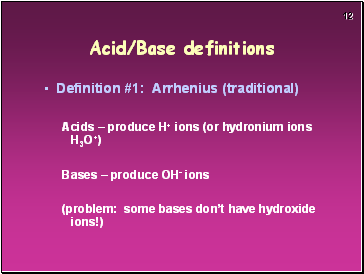 Acid/Base definitions
Definition #1: Arrhenius (traditional)
Acids – produce H+ ions (or hydronium ions H3O+)
Bases – produce OH- ions
(problem: some bases don't have hydroxide ions!)
Slide 13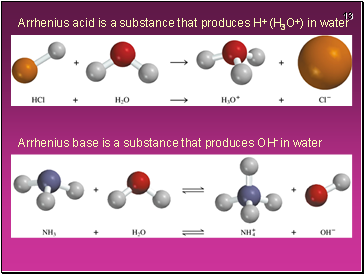 Arrhenius acid is a substance that produces H+ (H3O+) in water
Arrhenius base is a substance that produces OH- in water
Slide 14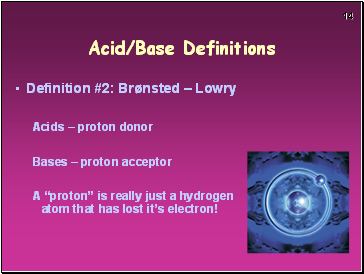 Acid/Base Definitions
Definition #2: Brønsted – Lowry
Acids – proton donor
Bases – proton acceptor
A "proton" is really just a hydrogen atom that has lost it's electron!
Slide 15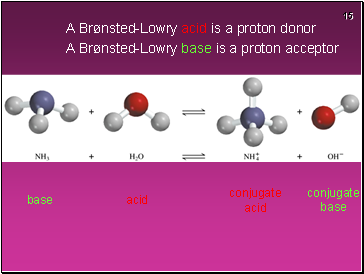 A Brønsted-Lowry acid is a proton donor
A Brønsted-Lowry base is a proton acceptor
acid
conjugate base
base
conjugate acid
Slide 16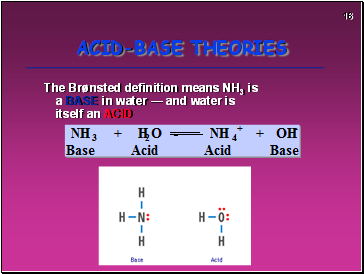 ACID-BASE THEORIES
The Brønsted definition means NH3 is a BASE in water — and water is itself an ACID
Slide 17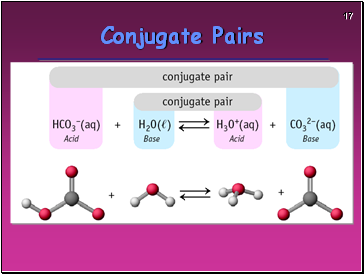 Conjugate Pairs
Slide 18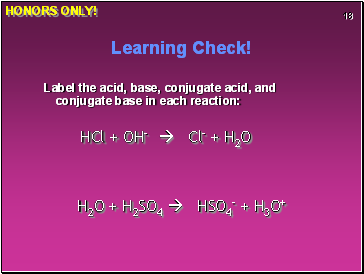 Learning Check!
Label the acid, base, conjugate acid, and conjugate base in each reaction:
HONORS ONLY!
HCl + OH-  Cl- + H2O
H2O + H2SO4  HSO4- + H3O+
Slide 19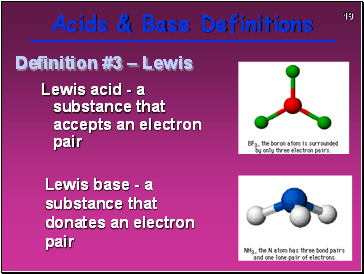 Acids & Base Definitions
Lewis acid - a substance that accepts an electron pair
Lewis base - a substance that donates an electron pair
Definition #3 – Lewis
Slide 20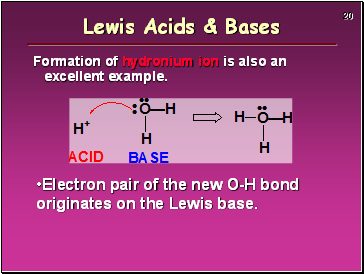 Lewis Acids & Bases
Formation of hydronium ion is also an excellent example.
Electron pair of the new O-H bond originates on the Lewis base.
Slide 21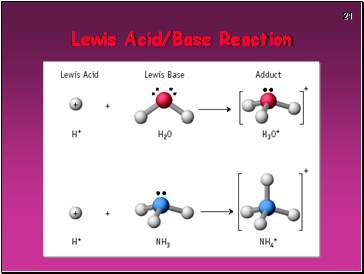 Lewis Acid/Base Reaction
Slide 22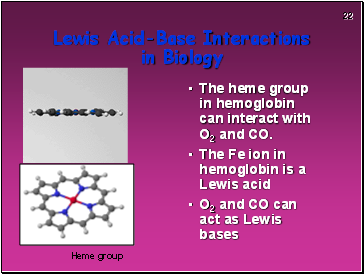 Lewis Acid-Base Interactions in Biology
The heme group in hemoglobin can interact with O2 and CO.
The Fe ion in hemoglobin is a Lewis acid
O2 and CO can act as Lewis bases
Heme group
Slide 23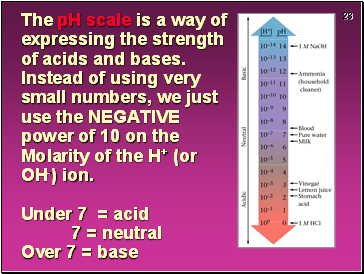 The pH scale is a way of expressing the strength of acids and bases. Instead of using very small numbers, we just use the NEGATIVE power of 10 on the Molarity of the H+ (or OH-) ion. Under 7 = acid 7 = neutral Over 7 = base