Plant Structure, Growth, and Development
Page
10
B
B
B
C
C
C
C
C
C
C
C
A
A
A
A
C
C
C
C
A
A
A
A
B
B
B
B
A
A
A
A
(b) Side view of flowers with organ identity mutations
Slide 72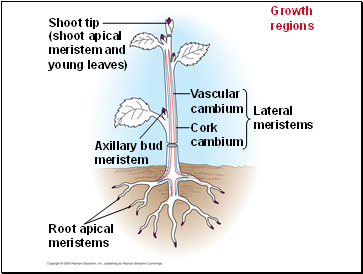 Growth regions
Shoot tip
(shoot apical
meristem and
young leaves)
Axillary bud
meristem
Cork
cambium
Vascular
cambium
Lateral
meristems
Root apical
meristems
Slide 73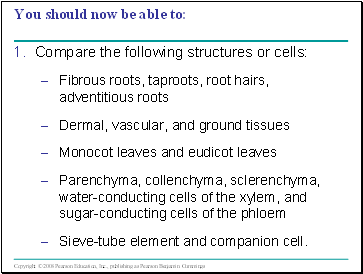 You should now be able to:
Compare the following structures or cells:
Fibrous roots, taproots, root hairs, adventitious roots
Dermal, vascular, and ground tissues
Monocot leaves and eudicot leaves
Parenchyma, collenchyma, sclerenchyma, water-conducting cells of the xylem, and sugar-conducting cells of the phloem
Sieve-tube element and companion cell.
Slide 74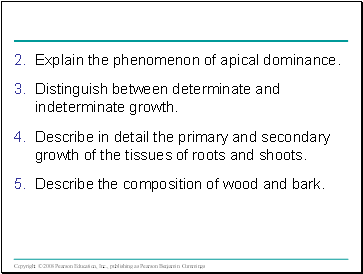 Explain the phenomenon of apical dominance.
Distinguish between determinate and indeterminate growth.
Describe in detail the primary and secondary growth of the tissues of roots and shoots.
Describe the composition of wood and bark.
Slide 75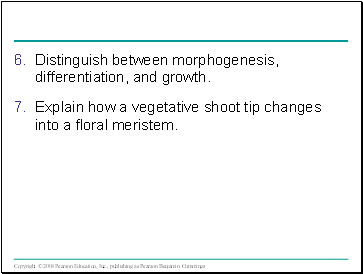 Distinguish between morphogenesis, differentiation, and growth.
Explain how a vegetative shoot tip changes into a floral meristem.