Plant Structure, Growth, and Development
Page
9
Cellular differentiation to a large extent depends on positional information and is affected by homeotic genes.
Slide 65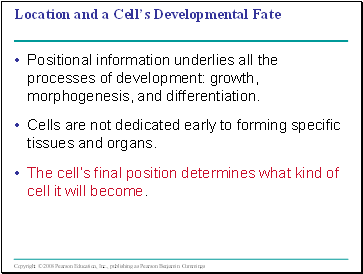 Location and a Cellís Developmental Fate
Positional information underlies all the processes of development: growth, morphogenesis, and differentiation.
Cells are not dedicated early to forming specific tissues and organs.
The cellís final position determines what kind of cell it will become.
Slide 66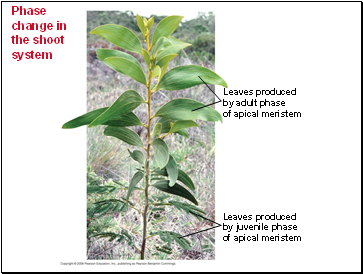 Phase change in the shoot system
Leaves produced
by adult phase
of apical meristem
Leaves produced
by juvenile phase
of apical meristem
Slide 67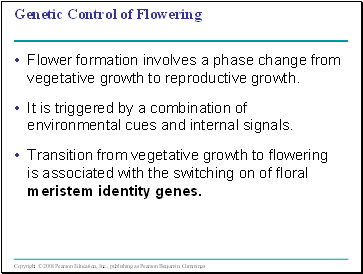 Genetic Control of Flowering
Flower formation involves a phase change from vegetative growth to reproductive growth.
It is triggered by a combination of environmental cues and internal signals.
Transition from vegetative growth to flowering is associated with the switching on of floral meristem identity genes.
Slide 68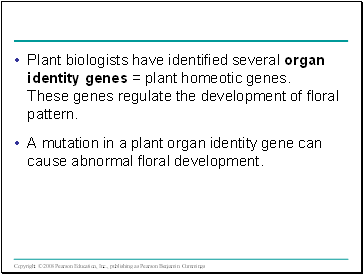 Plant biologists have identified several organ identity genes = plant homeotic genes. These genes regulate the development of floral pattern.
A mutation in a plant organ identity gene can cause abnormal floral development.
Slide 69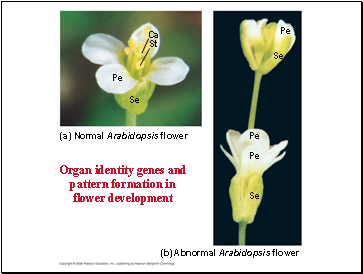 (a) Normal Arabidopsis flower
Ca
St
Pe
Se
Pe
Pe
Pe
Se
Se
(b) Abnormal Arabidopsis flower
Organ identity genes and pattern formation in flower development
Slide 70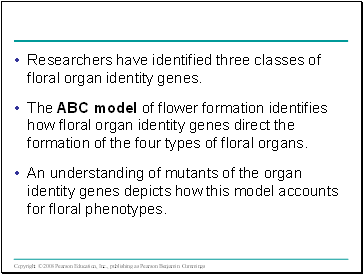 Researchers have identified three classes of floral organ identity genes.
The ABC model of flower formation identifies how floral organ identity genes direct the formation of the four types of floral organs.
An understanding of mutants of the organ identity genes depicts how this model accounts for floral phenotypes.
Slide 71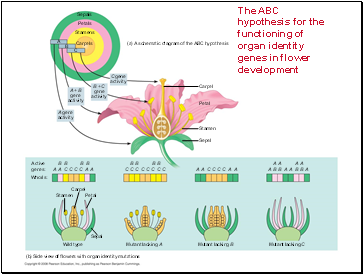 The ABC hypothesis for the functioning of organ identity genes in flower development
Sepals
Petals
Stamens
Carpels
(a) A schematic diagram of the ABC hypothesis
A
A + B
gene
activity
B
C
A gene
activity
B + C
gene
activity
C gene
activity
Carpel
Petal
Stamen
Sepal
Active
genes:
Whorls:
Stamen
Carpel
Petal
Sepal
Wild type
Mutant lacking A
Mutant lacking B
Mutant lacking C
A
A
A
A
B
B
B
B
C
C
C
C
B