Plant Structure, Growth, and Development
Page
6
Cortex
Emerging
lateral
root
Vascular
cylinder
100 µm
Epidermis
Lateral root
3
2
1
Slide 43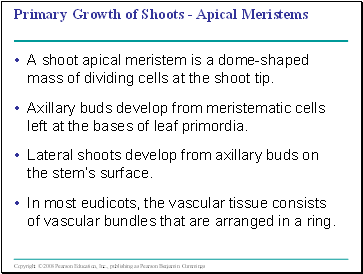 Primary Growth of Shoots - Apical Meristems
A shoot apical meristem is a dome-shaped mass of dividing cells at the shoot tip.
Axillary buds develop from meristematic cells left at the bases of leaf primordia.
Lateral shoots develop from axillary buds on the stem's surface.
In most eudicots, the vascular tissue consists of vascular bundles that are arranged in a ring.
Slide 44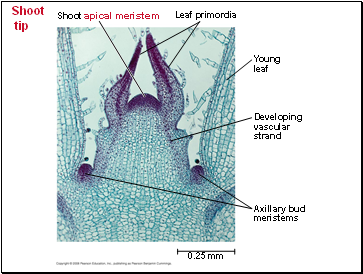 Shoot tip
Shoot apical meristem
Leaf primordia
Young
leaf
Developing
vascular
strand
Axillary bud
meristems
0.25 mm
Slide 45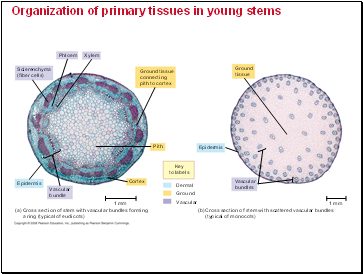 Organization of primary tissues in young stems
Phloem
Xylem
Sclerenchyma
(fiber cells)
Ground tissue
connecting
pith to cortex
Pith
Cortex
1 mm
Epidermis
Vascular
bundle
Cross section of stem with vascular bundles forming
a ring (typical of eudicots)
(a)
Key
to labels
Dermal
Ground
Vascular
Cross section of stem with scattered vascular bundles
(typical of monocots)
(b)
1 mm
Epidermis
Vascular
bundles
Ground
tissue
Slide 46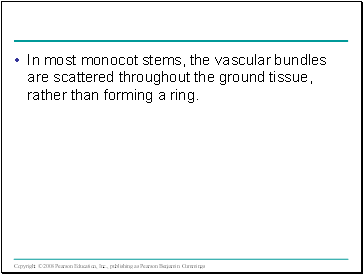 In most monocot stems, the vascular bundles are scattered throughout the ground tissue, rather than forming a ring.
Slide 47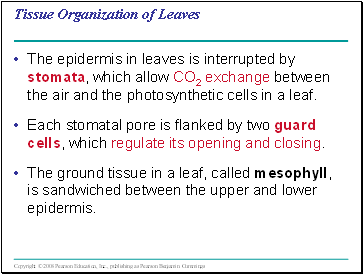 Tissue Organization of Leaves
The epidermis in leaves is interrupted by stomata, which allow CO2 exchange between the air and the photosynthetic cells in a leaf.
Each stomatal pore is flanked by two guard cells, which regulate its opening and closing.
The ground tissue in a leaf, called mesophyll, is sandwiched between the upper and lower epidermis.
Slide 48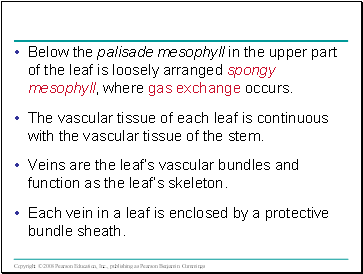 Below the palisade mesophyll in the upper part of the leaf is loosely arranged spongy mesophyll, where gas exchange occurs.
The vascular tissue of each leaf is continuous with the vascular tissue of the stem.
Veins are the leaf's vascular bundles and function as the leaf's skeleton.
Each vein in a leaf is enclosed by a protective bundle sheath.
Slide 49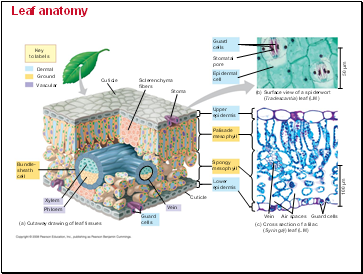 Leaf anatomy
Key
to labels
Dermal
Ground
Vascular
Cuticle
Sclerenchyma
fibers
Stoma
Bundle-
sheath
cell
Xylem
Phloem
(a) Cutaway drawing of leaf tissues