Plant Structure, Growth, and Development
Page
5
Lateral meristems add thickness to woody plants, a process called secondary growth.
There are two lateral meristems: the vascular cambium and the cork cambium.
The vascular cambium adds layers of vascular tissue called secondary xylem = wood and secondary phloem.
The cork cambium replaces the epidermis with periderm, which is thicker and tougher.
Slide 37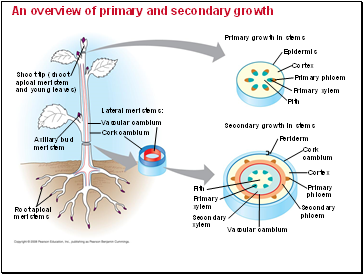 An overview of primary and secondary growth
Shoot tip (shoot
apical meristem
and young leaves)
Lateral meristems:
Axillary bud
meristem
Vascular cambium
Cork cambium
Root apical
meristems
Primary growth in stems
Epidermis
Cortex
Primary phloem
Primary xylem
Pith
Secondary growth in stems
Periderm
Cork
cambium
Cortex
Primary
phloem
Secondary
phloem
Pith
Primary
xylem
Secondary
xylem
Vascular cambium
Slide 38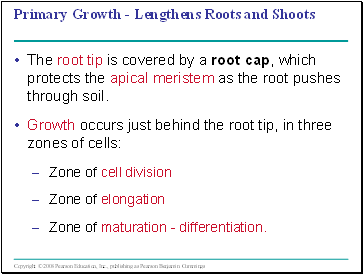 Primary Growth - Lengthens Roots and Shoots
The root tip is covered by a root cap, which protects the apical meristem as the root pushes through soil.
Growth occurs just behind the root tip, in three zones of cells:
Zone of cell division
Zone of elongation
Zone of maturation - differentiation.
Slide 39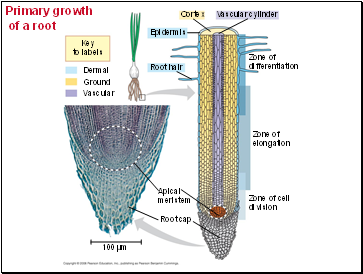 Primary growth of a root
Ground
Dermal
Key
to labels
Vascular
Root hair
Epidermis
Cortex
Vascular cylinder
Zone of
differentiation
Zone of
elongation
Zone of cell
division
Apical
meristem
Root cap
100 µm
Slide 40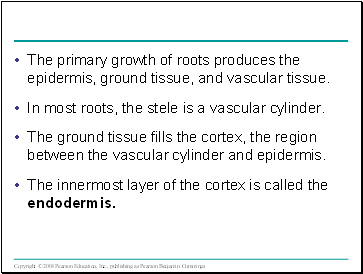 The primary growth of roots produces the epidermis, ground tissue, and vascular tissue.
In most roots, the stele is a vascular cylinder.
The ground tissue fills the cortex, the region between the vascular cylinder and epidermis.
The innermost layer of the cortex is called the endodermis.
Slide 41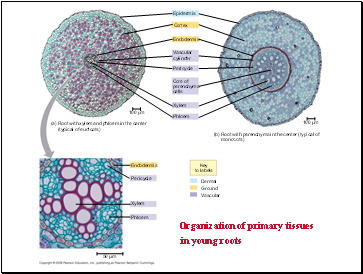 Epidermis
Cortex
Endodermis
Vascular
cylinder
Pericycle
Core of
parenchyma
cells
Xylem
Phloem
100 µm
Root with xylem and phloem in the center
(typical of eudicots)
(a)
Root with parenchyma in the center (typical of
monocots)
(b)
100 µm
Endodermis
Pericycle
Xylem
Phloem
50 µm
Key
to labels
Dermal
Ground
Vascular
Organization of primary tissues
in young roots
Slide 42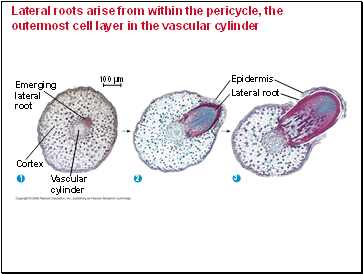 Lateral roots arise from within the pericycle, the outermost cell layer in the vascular cylinder