Plant Structure, Growth, and Development
Page
2
Slide 10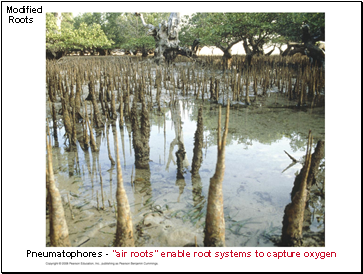 Modified Roots
Pneumatophores - "air roots" enable root systems to capture oxygen
Slide 11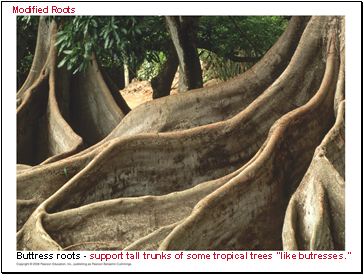 Modified Roots
Buttress roots - support tall trunks of some tropical trees "like butresses."
Slide 12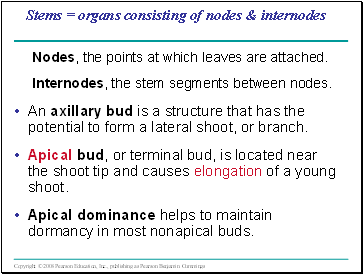 Stems = organs consisting of nodes & internodes
Nodes, the points at which leaves are attached.
Internodes, the stem segments between nodes.
An axillary bud is a structure that has the potential to form a lateral shoot, or branch.
Apical bud, or terminal bud, is located near the shoot tip and causes elongation of a young shoot.
Apical dominance helps to maintain dormancy in most nonapical buds.
Slide 13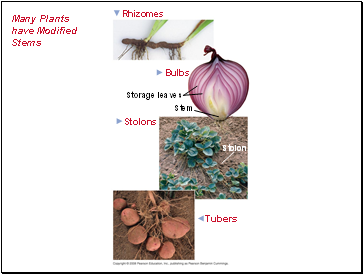 Many Plants have Modified Stems
Rhizomes
Bulbs
Storage leaves
Stem
Stolons
Stolon
Tubers
Slide 14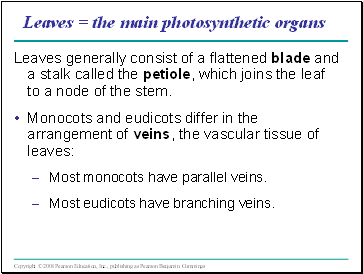 Leaves = the main photosynthetic organs
Leaves generally consist of a flattened blade and a stalk called the petiole, which joins the leaf to a node of the stem.
Monocots and eudicots differ in the arrangement of veins, the vascular tissue of leaves:
Most monocots have parallel veins.
Most eudicots have branching veins.
Slide 15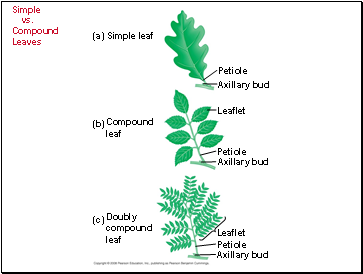 Simple vs. Compound Leaves
(a) Simple leaf
Compound
leaf
(b)
Doubly
compound
leaf
(c)
Petiole
Axillary bud
Leaflet
Petiole
Axillary bud
Leaflet
Petiole
Axillary bud
Slide 16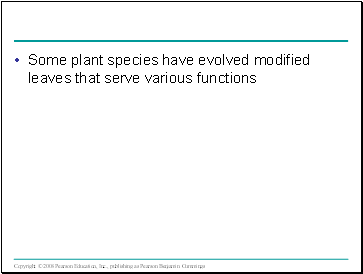 Some plant species have evolved modified leaves that serve various functions
Slide 17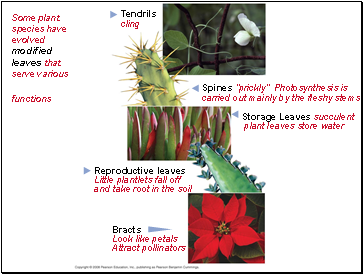 Some plant species have evolved modified leaves that serve various functions
Tendrils
cling
Spines "prickly" Photosynthesis is
carried out mainly by the fleshy stems
Storage Leaves succulent
plant leaves store water
Reproductive leaves
Little plantlets fall off
and take root in the soil
Bracts
Look like petals
Attract pollinators
Slide 18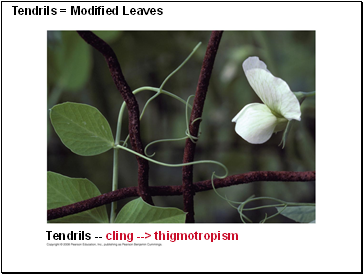 Tendrils = Modified Leaves
Tendrils -- cling --> thigmotropism
Slide 19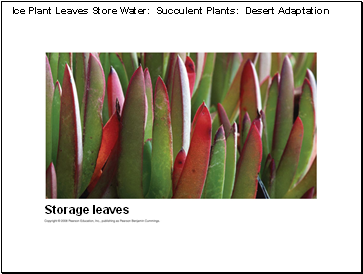 Ice Plant Leaves Store Water: Succulent Plants: Desert Adaptation
Storage leaves
Slide 20