Ecosystems
Page
9
Global warming can be slowed by reducing energy needs and converting to renewable sources of energy.
Stabilizing CO2 emissions will require an international effort.
Slide 53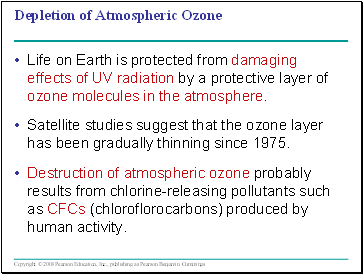 Depletion of Atmospheric Ozone
Life on Earth is protected from damaging effects of UV radiation by a protective layer of ozone molecules in the atmosphere.
Satellite studies suggest that the ozone layer has been gradually thinning since 1975.
Destruction of atmospheric ozone probably results from chlorine-releasing pollutants such as CFCs (chloroflorocarbons) produced by human activity.
Slide 54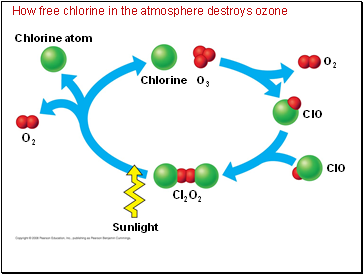 How free chlorine in the atmosphere destroys ozone
O2
Sunlight
Cl2O2
Chlorine
Chlorine atom
O3
O2
ClO
ClO
Slide 55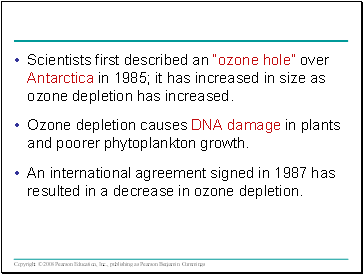 Scientists first described an "ozone hole" over Antarctica in 1985; it has increased in size as ozone depletion has increased.
Ozone depletion causes DNA damage in plants and poorer phytoplankton growth.
An international agreement signed in 1987 has resulted in a decrease in ozone depletion.
Slide 56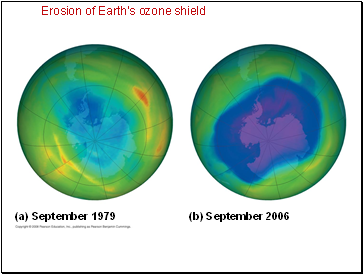 Erosion of Earth's ozone shield
(a) September 1979
(b) September 2006
Slide 57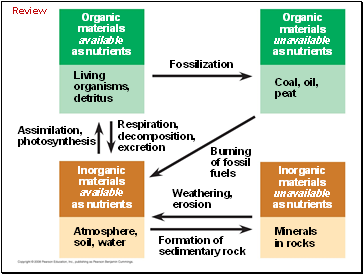 Review
Fossilization
Organic
materials
available
as nutrients
Living
organisms,
detritus
Organic
materials
unavailable
as nutrients
Coal, oil,
peat
Burning
of fossil
fuels
Respiration,
decomposition,
excretion
Assimilation,
photosynthesis
Inorganic
materials
available
as nutrients
Inorganic
materials
unavailable
as nutrients
Atmosphere,
soil, water
Minerals
in rocks
Weathering,
erosion
Formation of
sedimentary rock
Slide 58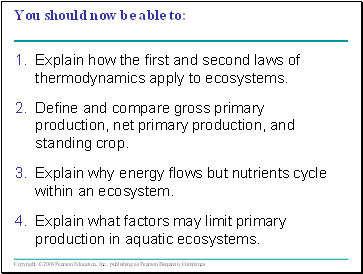 You should now be able to:
Explain how the first and second laws of thermodynamics apply to ecosystems.
Define and compare gross primary production, net primary production, and standing crop.
Explain why energy flows but nutrients cycle within an ecosystem.
Explain what factors may limit primary production in aquatic ecosystems.
Slide 59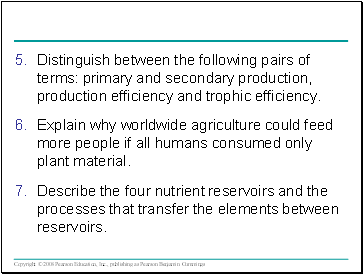 Distinguish between the following pairs of terms: primary and secondary production, production efficiency and trophic efficiency.
Explain why worldwide agriculture could feed more people if all humans consumed only plant material.