Ecosystems
Page
2
Primary producers
Detritus
Heat
Sun
Chemical cycling
Key
Energy flow
Slide 8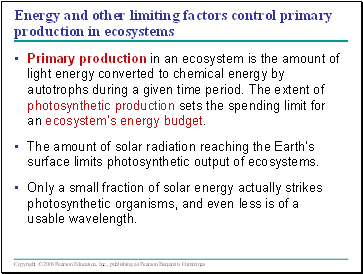 Energy and other limiting factors control primary production in ecosystems
Primary production in an ecosystem is the amount of light energy converted to chemical energy by autotrophs during a given time period. The extent of photosynthetic production sets the spending limit for an ecosystem's energy budget.
The amount of solar radiation reaching the Earth's surface limits photosynthetic output of ecosystems.
Only a small fraction of solar energy actually strikes photosynthetic organisms, and even less is of a usable wavelength.
Slide 9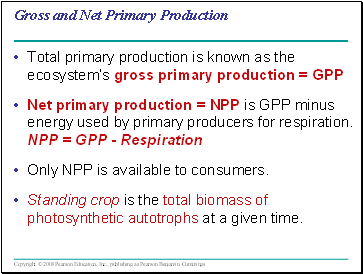 Gross and Net Primary Production
Total primary production is known as the ecosystem's gross primary production = GPP
Net primary production = NPP is GPP minus energy used by primary producers for respiration. NPP = GPP - Respiration
Only NPP is available to consumers.
Standing crop is the total biomass of photosynthetic autotrophs at a given time.
Slide 10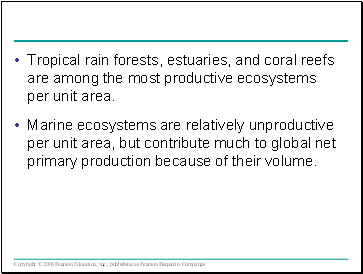 Tropical rain forests, estuaries, and coral reefs are among the most productive ecosystems per unit area.
Marine ecosystems are relatively unproductive per unit area, but contribute much to global net primary production because of their volume.
Slide 11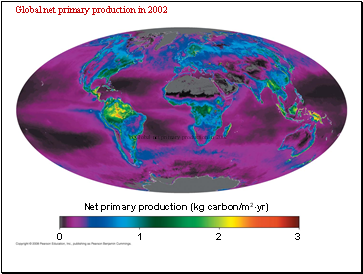 Net primary production (kg carbon/m2·yr)
0
1
2
3
·
Global net primary production in 2002
Global net primary production in 2002
Slide 12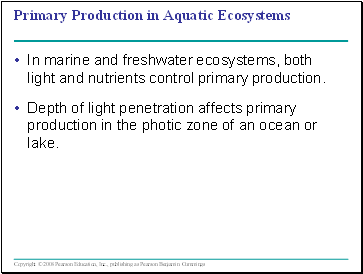 Primary Production in Aquatic Ecosystems
In marine and freshwater ecosystems, both light and nutrients control primary production.
Depth of light penetration affects primary production in the photic zone of an ocean or lake.
Slide 13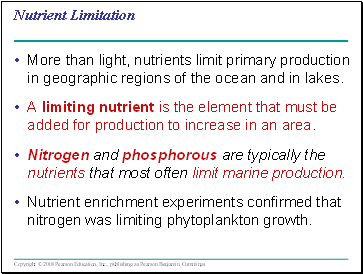 Nutrient Limitation
More than light, nutrients limit primary production in geographic regions of the ocean and in lakes.
A limiting nutrient is the element that must be added for production to increase in an area.
Nitrogen and phosphorous are typically the nutrients that most often limit marine production.
Nutrient enrichment experiments confirmed that nitrogen was limiting phytoplankton growth.
Slide 14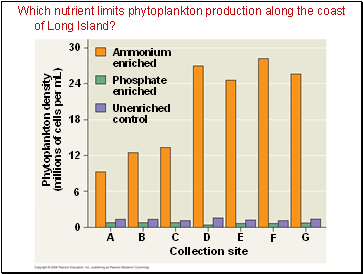 Which nutrient limits phytoplankton production along the coast of Long Island?
Ammonium
enriched
Phosphate
enriched
Unenriched
control
A
B
C
D