Ecosystems
Page
7
H
I
J
K
L
M
N
O
P
Q
R
S
T
U
Slide 40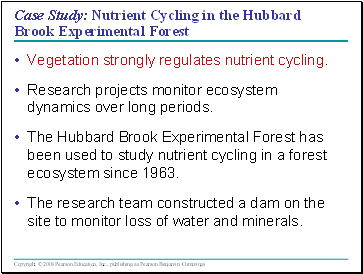 Case Study: Nutrient Cycling in the Hubbard Brook Experimental Forest
Vegetation strongly regulates nutrient cycling.
Research projects monitor ecosystem dynamics over long periods.
The Hubbard Brook Experimental Forest has been used to study nutrient cycling in a forest ecosystem since 1963.
The research team constructed a dam on the site to monitor loss of water and minerals.
Slide 41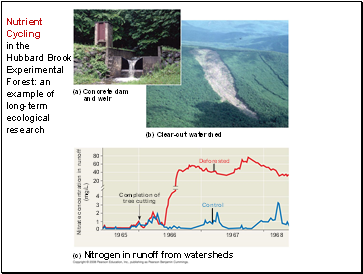 Nutrient Cycling in the Hubbard Brook Experimental Forest: an example of long-term ecological research
1965
(c) Nitrogen in runoff from watersheds
Nitrate concentration in runoff
(mg/L)
(a) Concrete dam
and weir
(b) Clear-cut watershed
1966
1967
1968
Control
Completion of
tree cutting
Deforested
0
1
2
3
4
20
40
60
80
Slide 42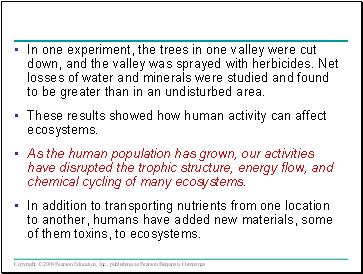 In one experiment, the trees in one valley were cut down, and the valley was sprayed with herbicides. Net losses of water and minerals were studied and found to be greater than in an undisturbed area.
These results showed how human activity can affect ecosystems.
As the human population has grown, our activities have disrupted the trophic structure, energy flow, and chemical cycling of many ecosystems.
In addition to transporting nutrients from one location to another, humans have added new materials, some of them toxins, to ecosystems.
Slide 43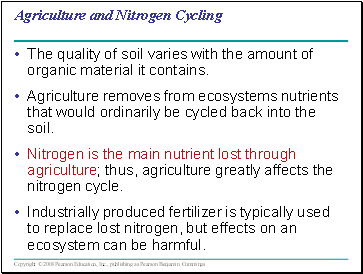 Agriculture and Nitrogen Cycling
The quality of soil varies with the amount of organic material it contains.
Agriculture removes from ecosystems nutrients that would ordinarily be cycled back into the soil.
Nitrogen is the main nutrient lost through agriculture; thus, agriculture greatly affects the nitrogen cycle.
Industrially produced fertilizer is typically used to replace lost nitrogen, but effects on an ecosystem can be harmful.
Slide 44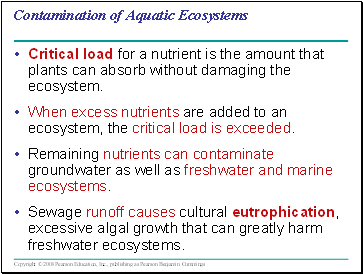 Contamination of Aquatic Ecosystems
Critical load for a nutrient is the amount that plants can absorb without damaging the ecosystem.
When excess nutrients are added to an ecosystem, the critical load is exceeded.
Remaining nutrients can contaminate groundwater as well as freshwater and marine ecosystems.
Sewage runoff causes cultural eutrophication, excessive algal growth that can greatly harm freshwater ecosystems.
Slide 45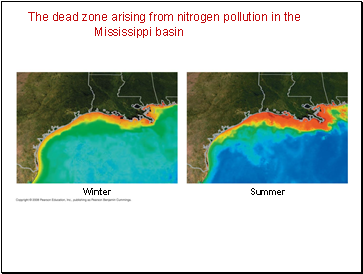 The dead zone arising from nitrogen pollution in the Mississippi basin