Ecosystems
Page
4
Slide 21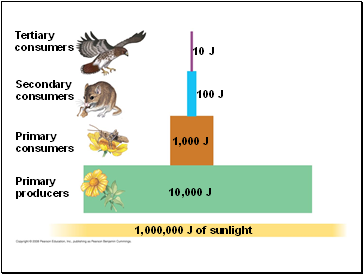 Primary
producers
100 J
1,000,000 J of sunlight
10 J
1,000 J
10,000 J
Primary
consumers
Secondary
consumers
Tertiary
consumers
Slide 22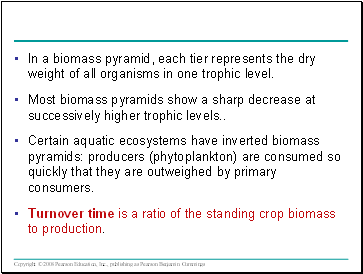 In a biomass pyramid, each tier represents the dry weight of all organisms in one trophic level.
Most biomass pyramids show a sharp decrease at successively higher trophic levels
Certain aquatic ecosystems have inverted biomass pyramids: producers (phytoplankton) are consumed so quickly that they are outweighed by primary consumers.
Turnover time is a ratio of the standing crop biomass to production.
Slide 23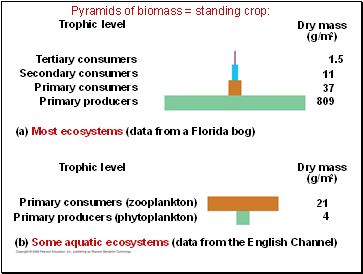 Pyramids of biomass = standing crop:
(a) Most ecosystems (data from a Florida bog)
Primary producers (phytoplankton)
(b) Some aquatic ecosystems (data from the English Channel)
Trophic level
Tertiary consumers
Secondary consumers
Primary consumers
Primary producers
Trophic level
Primary consumers (zooplankton)
Dry mass
(g/m2)
Dry mass
(g/m2)
1.5
11
37
809
21
4
Slide 24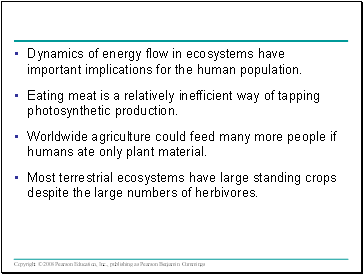 Dynamics of energy flow in ecosystems have important implications for the human population.
Eating meat is a relatively inefficient way of tapping photosynthetic production.
Worldwide agriculture could feed many more people if humans ate only plant material.
Most terrestrial ecosystems have large standing crops despite the large numbers of herbivores.
Slide 25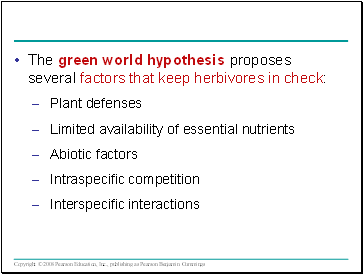 The green world hypothesis proposes several factors that keep herbivores in check:
Plant defenses
Limited availability of essential nutrients
Abiotic factors
Intraspecific competition
Interspecific interactions
Slide 26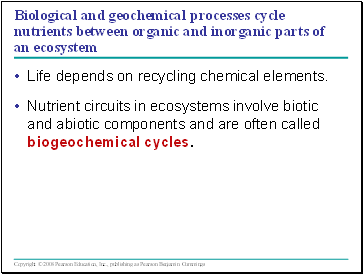 Biological and geochemical processes cycle nutrients between organic and inorganic parts of an ecosystem
Life depends on recycling chemical elements.
Nutrient circuits in ecosystems involve biotic and abiotic components and are often called biogeochemical cycles.
Slide 27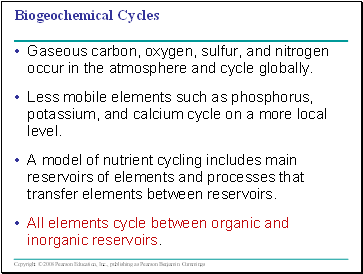 Biogeochemical Cycles
Gaseous carbon, oxygen, sulfur, and nitrogen occur in the atmosphere and cycle globally.
Less mobile elements such as phosphorus, potassium, and calcium cycle on a more local level.
A model of nutrient cycling includes main reservoirs of elements and processes that transfer elements between reservoirs.