Ecosystems
Page
3
E
F
G
30
24
18
12
6
0
Collection site
Phytoplankton density
(millions of cells per mL)
Slide 15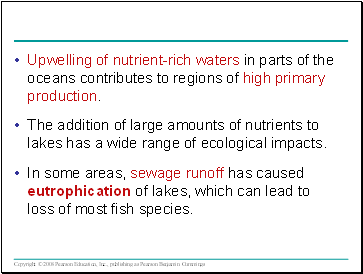 Upwelling of nutrient-rich waters in parts of the oceans contributes to regions of high primary production.
The addition of large amounts of nutrients to lakes has a wide range of ecological impacts.
In some areas, sewage runoff has caused eutrophication of lakes, which can lead to loss of most fish species.
Slide 16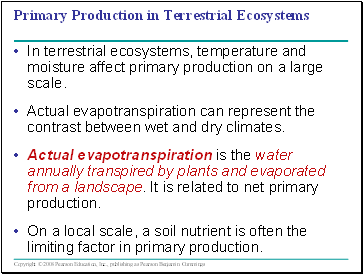 Primary Production in Terrestrial Ecosystems
In terrestrial ecosystems, temperature and moisture affect primary production on a large scale.
Actual evapotranspiration can represent the contrast between wet and dry climates.
Actual evapotranspiration is the water annually transpired by plants and evaporated from a landscape. It is related to net primary production.
On a local scale, a soil nutrient is often the limiting factor in primary production.
Slide 17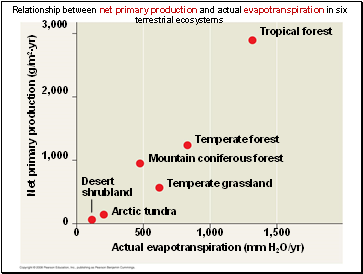 Net primary production (g/m2·yr)
Relationship between net primary production and actual evapotranspiration in six terrestrial ecosystems
Tropical forest
Actual evapotranspiration (mm H2O/yr)
Temperate forest
Mountain coniferous forest
Temperate grassland
Arctic tundra
Desert
shrubland
1,500
1,000
500
0
0
1,000
2,000
3,000
·
Slide 18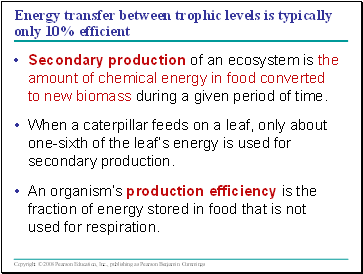 Energy transfer between trophic levels is typically only 10% efficient
Secondary production of an ecosystem is the amount of chemical energy in food converted to new biomass during a given period of time.
When a caterpillar feeds on a leaf, only about one-sixth of the leaf's energy is used for secondary production.
An organism's production efficiency is the fraction of energy stored in food that is not used for respiration.
Slide 19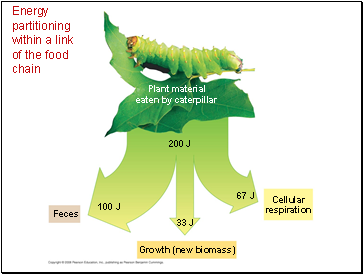 Energy partitioning within a link of the food chain
Cellular
respiration
100 J
Growth (new biomass)
Feces
200 J
33 J
67 J
Plant material
eaten by caterpillar
Slide 20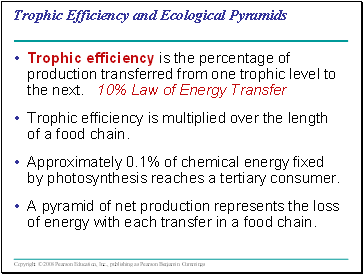 Trophic Efficiency and Ecological Pyramids
Trophic efficiency is the percentage of production transferred from one trophic level to the next. 10% Law of Energy Transfer
Trophic efficiency is multiplied over the length of a food chain.
Approximately 0.1% of chemical energy fixed by photosynthesis reaches a tertiary consumer.
A pyramid of net production represents the loss of energy with each transfer in a food chain.