Ecosystems
Page
8
Winter
Summer
Slide 46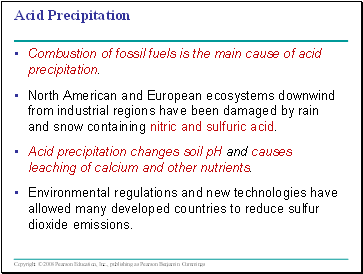 Acid Precipitation
Combustion of fossil fuels is the main cause of acid precipitation.
North American and European ecosystems downwind from industrial regions have been damaged by rain and snow containing nitric and sulfuric acid.
Acid precipitation changes soil pH and causes leaching of calcium and other nutrients.
Environmental regulations and new technologies have allowed many developed countries to reduce sulfur dioxide emissions.
Slide 47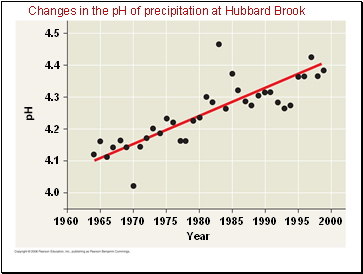 Changes in the pH of precipitation at Hubbard Brook
Year
2000
1995
1990
1985
1980
1975
1970
1965
1960
4.0
4.1
4.2
4.3
4.4
4.5
pH
Slide 48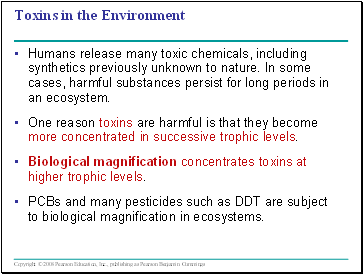 Toxins in the Environment
Humans release many toxic chemicals, including synthetics previously unknown to nature. In some cases, harmful substances persist for long periods in an ecosystem.
One reason toxins are harmful is that they become more concentrated in successive trophic levels.
Biological magnification concentrates toxins at higher trophic levels.
PCBs and many pesticides such as DDT are subject to biological magnification in ecosystems.
Slide 49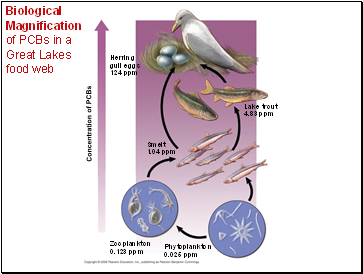 Biological Magnification of PCBs in a Great Lakes food web
Lake trout
4.83 ppm
Concentration of PCBs
Herring
gull eggs
124 ppm
Smelt
1.04 ppm
Phytoplankton
0.025 ppm
Zooplankton
0.123 ppm
Slide 50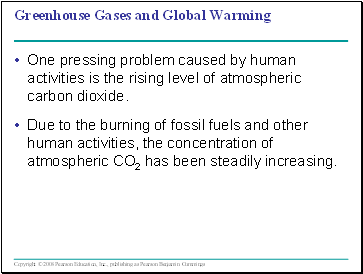 Greenhouse Gases and Global Warming
One pressing problem caused by human activities is the rising level of atmospheric carbon dioxide.
Due to the burning of fossil fuels and other human activities, the concentration of atmospheric CO2 has been steadily increasing.
Slide 51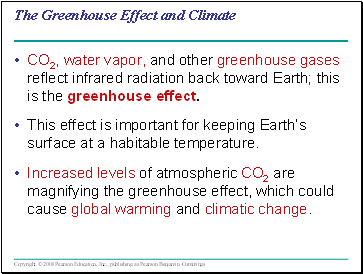 The Greenhouse Effect and Climate
CO2, water vapor, and other greenhouse gases reflect infrared radiation back toward Earth; this is the greenhouse effect.
This effect is important for keeping Earth's surface at a habitable temperature.
Increased levels of atmospheric CO2 are magnifying the greenhouse effect, which could cause global warming and climatic change.
Slide 52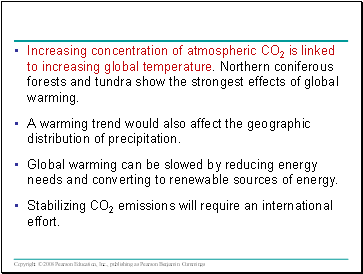 Increasing concentration of atmospheric CO2 is linked to increasing global temperature. Northern coniferous forests and tundra show the strongest effects of global warming.
A warming trend would also affect the geographic distribution of precipitation.