Ecosystems
Page
6
CO2 in atmosphere
Slide 34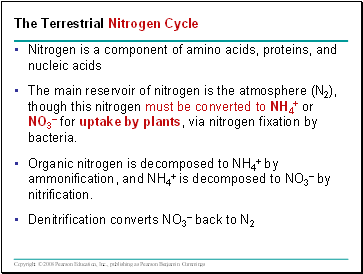 The Terrestrial Nitrogen Cycle
Nitrogen is a component of amino acids, proteins, and nucleic acids
The main reservoir of nitrogen is the atmosphere (N2), though this nitrogen must be converted to NH4+ or NO3– for uptake by plants, via nitrogen fixation by bacteria.
Organic nitrogen is decomposed to NH4+ by ammonification, and NH4+ is decomposed to NO3– by nitrification.
Denitrification converts NO3– back to N2
Slide 35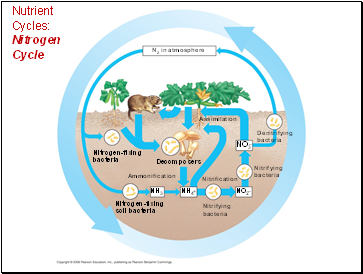 Nutrient Cycles: Nitrogen Cycle
Decomposers
N2 in atmosphere
Nitrification
Nitrifying
bacteria
Nitrifying
bacteria
Denitrifying
bacteria
Assimilation
NH3
NH4
NO2
NO3
+
–
–
Ammonification
Nitrogen-fixing
soil bacteria
Nitrogen-fixing
bacteria
Slide 36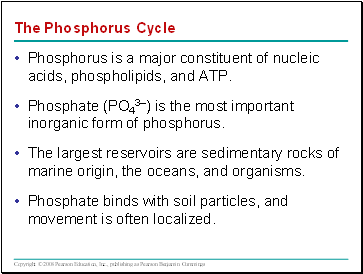 The Phosphorus Cycle
Phosphorus is a major constituent of nucleic acids, phospholipids, and ATP.
Phosphate (PO43–) is the most important inorganic form of phosphorus.
The largest reservoirs are sedimentary rocks of marine origin, the oceans, and organisms.
Phosphate binds with soil particles, and movement is often localized.
Slide 37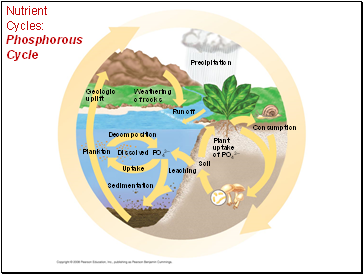 Nutrient Cycles: Phosphorous Cycle
Leaching
Consumption
Precipitation
Plant
uptake
of PO43–
Soil
Sedimentation
Uptake
Plankton
Decomposition
Dissolved PO43–
Runoff
Geologic
uplift
Weathering
of rocks
Slide 38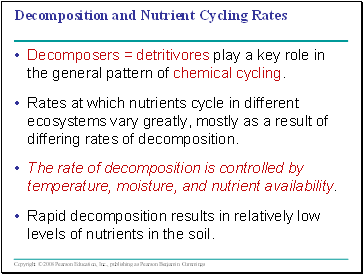 Decomposition and Nutrient Cycling Rates
Decomposers = detritivores play a key role in the general pattern of chemical cycling.
Rates at which nutrients cycle in different ecosystems vary greatly, mostly as a result of differing rates of decomposition.
The rate of decomposition is controlled by temperature, moisture, and nutrient availability.
Rapid decomposition results in relatively low levels of nutrients in the soil.
Slide 39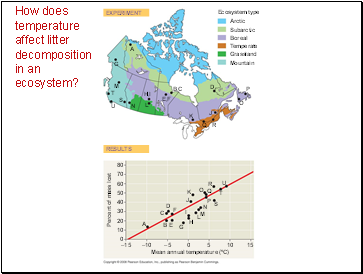 How does temperature affect litter decomposition in an ecosystem?
Ecosystem type
EXPERIMENT
RESULTS
Arctic
Subarctic
Boreal
Temperate
Grassland
Mountain
P
O
D
J
R
Q
K
B,C
E,F
H,I
L
N
U
S
T
M
G
A
A
80
70
60
50
40
30
20
10
0
–15
–10
–5
0
5
10
15
Mean annual temperature (ºC)
Percent of mass lost
B
C
D
E
F
G