Ecosystems
Page
5
All elements cycle between organic and inorganic reservoirs.
Slide 28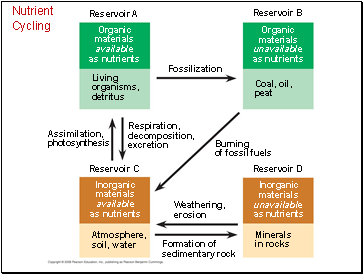 Nutrient Cycling
Reservoir A
Reservoir B
Organic
materials
available
as nutrients
Fossilization
Organic
materials
unavailable
as nutrients
Reservoir D
Reservoir C
Coal, oil,
peat
Living
organisms,
detritus
Burning
of fossil fuels
Respiration,
decomposition,
excretion
Assimilation,
photosynthesis
Inorganic
materials
available
as nutrients
Inorganic
materials
unavailable
as nutrients
Atmosphere,soil, water
Minerals
in rocks
Weathering,
erosion
Formation of
sedimentary rock
Slide 29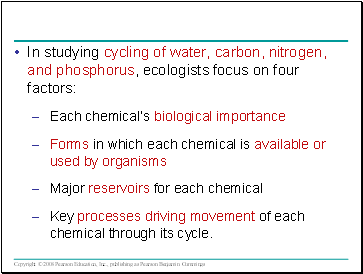 In studying cycling of water, carbon, nitrogen, and phosphorus, ecologists focus on four factors:
Each chemical's biological importance
Forms in which each chemical is available or used by organisms
Major reservoirs for each chemical
Key processes driving movement of each chemical through its cycle.
Slide 30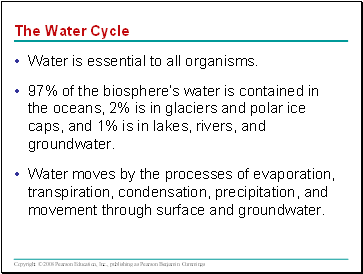 The Water Cycle
Water is essential to all organisms.
97% of the biosphere's water is contained in the oceans, 2% is in glaciers and polar ice caps, and 1% is in lakes, rivers, and groundwater.
Water moves by the processes of evaporation, transpiration, condensation, precipitation, and movement through surface and groundwater.
Slide 31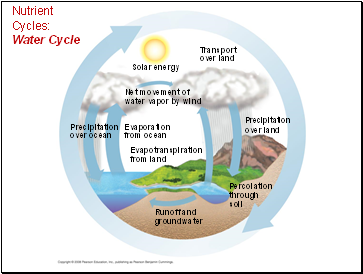 Nutrient Cycles: Water Cycle
Precipitation
over land
Transport
over land
Solar energy
Net movement of
water vapor by wind
Evaporation
from ocean
Percolation
through
soil
Evapotranspiration
from land
Runoff and
groundwater
Precipitation
over ocean
Slide 32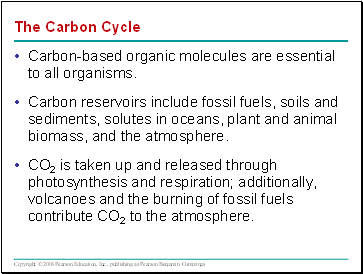 The Carbon Cycle
Carbon-based organic molecules are essential to all organisms.
Carbon reservoirs include fossil fuels, soils and sediments, solutes in oceans, plant and animal biomass, and the atmosphere.
CO2 is taken up and released through photosynthesis and respiration; additionally, volcanoes and the burning of fossil fuels contribute CO2 to the atmosphere.
Slide 33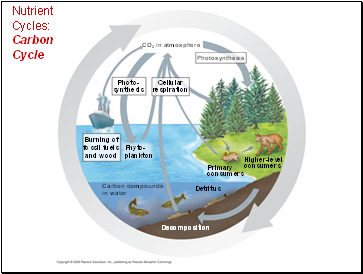 Nutrient Cycles: Carbon Cycle
Higher-level
consumers
Primary
consumers
Detritus
Burning of
fossil fuels
and wood
Phyto-
plankton
Cellular
respiration
Photo-
synthesis
Photosynthesis
Carbon compounds
in water
Decomposition