Animal Reproduction
Page
8
Maturing follicle
Corpus luteum
Degenerating corpus luteum
Follicular phase
Ovulation
Luteal phase
(a)
(b)
(c)
Days
0
5
10
14
15
20
25
28
|
|
|
|
|
|
|
|
–
–
+
Slide 51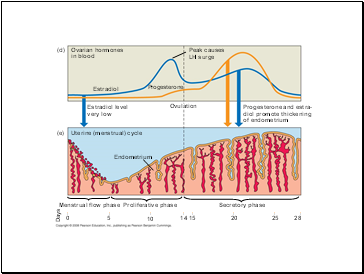 Ovarian hormones in blood
Peak causes LH surge
Estradiol level very low
Estradiol
Progesterone
Ovulation
Progesterone and estra- diol promote thickening of endometrium
Uterine (menstrual) cycle
Endometrium
0
5
10
14
20
25
28
|
|
|
|
|
|
|
|
Days
15
Menstrual flow phase Proliferative phase
Secretory phase
(d)
(e)
Slide 52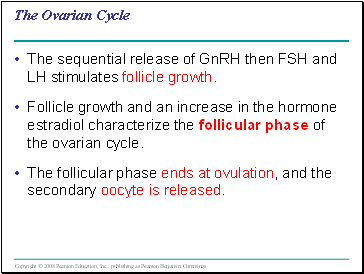 The Ovarian Cycle
The sequential release of GnRH then FSH and LH stimulates follicle growth.
Follicle growth and an increase in the hormone estradiol characterize the follicular phase of the ovarian cycle.
The follicular phase ends at ovulation, and the secondary oocyte is released.
Slide 53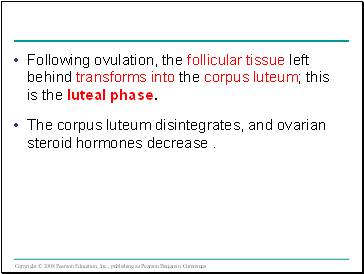 Following ovulation, the follicular tissue left behind transforms into the corpus luteum; this is the luteal phase.
The corpus luteum disintegrates, and ovarian steroid hormones decrease .
Slide 54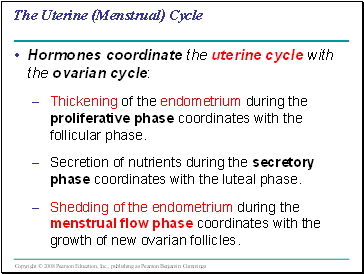 The Uterine (Menstrual) Cycle
Hormones coordinate the uterine cycle with the ovarian cycle:
Thickening of the endometrium during the proliferative phase coordinates with the follicular phase.
Secretion of nutrients during the secretory phase coordinates with the luteal phase.
Shedding of the endometrium during the menstrual flow phase coordinates with the growth of new ovarian follicles.
Slide 55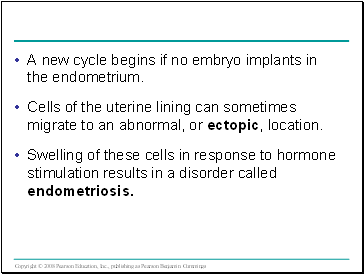 A new cycle begins if no embryo implants in the endometrium.
Cells of the uterine lining can sometimes migrate to an abnormal, or ectopic, location.
Swelling of these cells in response to hormone stimulation results in a disorder called endometriosis.
Slide 56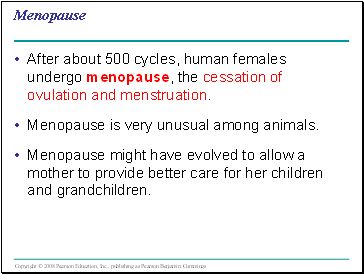 Menopause
After about 500 cycles, human females undergo menopause, the cessation of ovulation and menstruation.
Menopause is very unusual among animals.
Menopause might have evolved to allow a mother to provide better care for her children and grandchildren.
Slide 57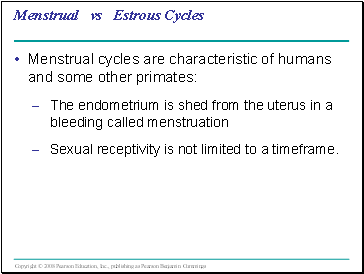 Menstrual vs Estrous Cycles
Menstrual cycles are characteristic of humans and some other primates:
The endometrium is shed from the uterus in a bleeding called menstruation