Animal Reproduction
Page
7
Negative feedback
–
–
–
Slide 46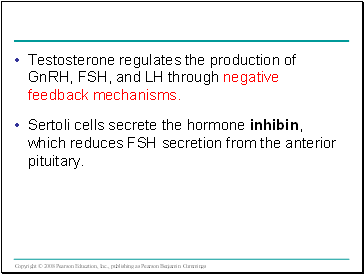 Testosterone regulates the production of GnRH, FSH, and LH through negative feedback mechanisms.
Sertoli cells secrete the hormone inhibin, which reduces FSH secretion from the anterior pituitary.
Slide 47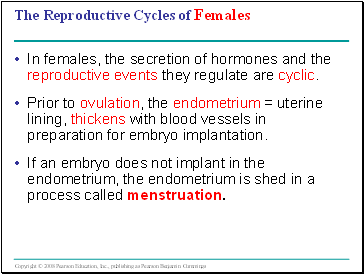 The Reproductive Cycles of Females
In females, the secretion of hormones and the reproductive events they regulate are cyclic.
Prior to ovulation, the endometrium = uterine lining, thickens with blood vessels in preparation for embryo implantation.
If an embryo does not implant in the endometrium, the endometrium is shed in a process called menstruation.
Slide 48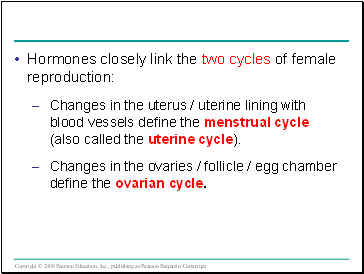 Hormones closely link the two cycles of female reproduction:
Changes in the uterus / uterine lining with blood vessels define the menstrual cycle (also called the uterine cycle).
Changes in the ovaries / follicle / egg chamber define the ovarian cycle.
Slide 49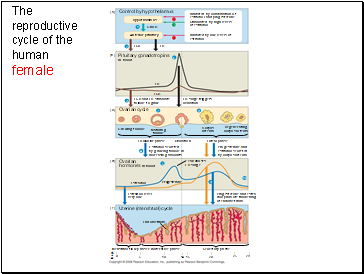 The reproductive cycle of the human female
(a)
Control by hypothalamus
Hypothalamus
GnRH
Anterior pituitary
1
Inhibited by combination of estradiol and progesterone
Stimulated by high levels of estradiol
Inhibited by low levels of estradiol
2
FSH
LH
Pituitary gonadotropins in blood
(b)
6
FSH
LH
FSH and LH stimulate follicle to grow
LH surge triggers ovulation
3
Ovarian cycle
8
(c)
7
Growing follicle
Maturing follicle
Corpus luteum
Degenerating corpus luteum
Follicular phase
Ovulation
Luteal phase
Estradiol secreted by growing follicle in increasing amounts
Progesterone and estradiol secreted by corpus luteum
4
Ovarian hormones in blood
Peak causes LH surge
(d)
5
Estradiol
Progesterone
9
10
Estradiol level very low
Progesterone and estra- diol promote thickening of endometrium
Uterine (menstrual) cycle
Endometrium
(e)
Menstrual flow phase Proliferative phase
Secretory phase
Days
0
5
10
14
20
25
28
|
|
|
15
|
|
|
|
|
–
–
+
Slide 50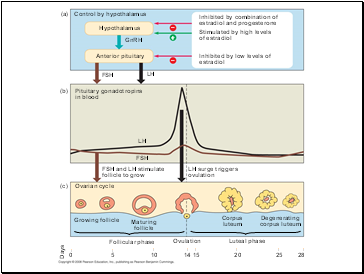 Control by hypothalamus
Inhibited by combination of estradiol and progesterone
Stimulated by high levels of estradiol
Inhibited by low levels of estradiol
Hypothalamus
GnRH
Anterior pituitary
FSH
LH
Pituitary gonadotropins in blood
LH
FSH
FSH and LH stimulate follicle to grow
LH surge triggers ovulation
Ovarian cycle
Growing follicle