Animal Reproduction
Page
12
Noninvasive procedures usually use ultrasound imaging to detect fetal condition.
Genetic testing of the fetus poses ethical questions and can present parents with difficult decisions.
Slide 85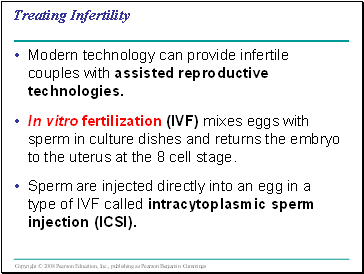 Treating Infertility
Modern technology can provide infertile couples with assisted reproductive technologies.
In vitro fertilization (IVF) mixes eggs with sperm in culture dishes and returns the embryo to the uterus at the 8 cell stage.
Sperm are injected directly into an egg in a type of IVF called intracytoplasmic sperm injection (ICSI).
Slide 86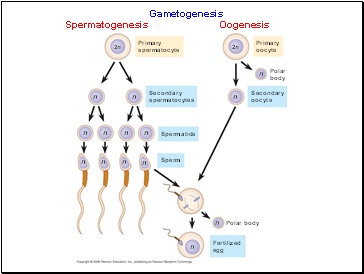 Gametogenesis
Spermatogenesis
Oogenesis
Primary spermatocyte
Primary oocyte
Polar body
Secondary spermatocytes
Secondary oocyte
Spermatids
Sperm
Polar body
Fertilized egg
n
2n
2n
n
n
n
n
n
n
n
n
n
n
n
n
n
Slide 87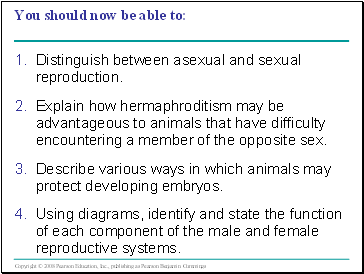 You should now be able to:
Distinguish between asexual and sexual reproduction.
Explain how hermaphroditism may be advantageous to animals that have difficulty encountering a member of the opposite sex.
Describe various ways in which animals may protect developing embryos.
Using diagrams, identify and state the function of each component of the male and female reproductive systems.
Slide 88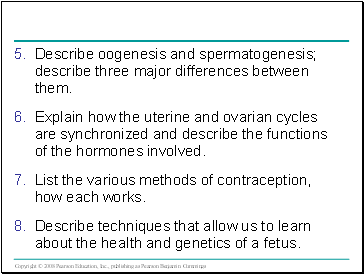 Describe oogenesis and spermatogenesis; describe three major differences between them.
Explain how the uterine and ovarian cycles are synchronized and describe the functions of the hormones involved.
List the various methods of contraception, how each works.
Describe techniques that allow us to learn about the health and genetics of a fetus.