Animal Reproduction
Page
11
1
Slide 77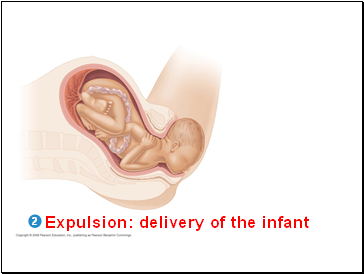 Expulsion: delivery of the infant
2
Slide 78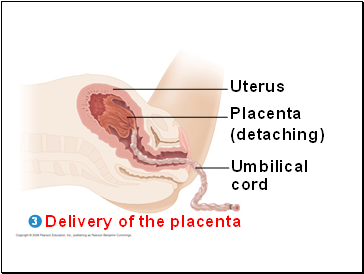 Delivery of the placenta
Uterus
Placenta
(detaching)
Umbilical
cord
3
Slide 79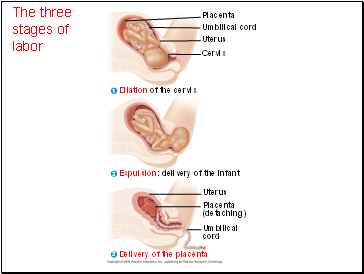 The three stages of labor
3
2
1
Dilation of the cervix
Placenta
Umbilical cord
Uterus
Cervix
Expulsion: delivery of the infant
Uterus
Placenta (detaching)
Umbilical cord
Delivery of the placenta
Slide 80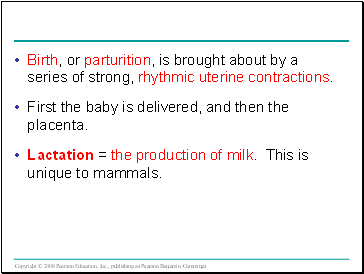 Birth, or parturition, is brought about by a series of strong, rhythic uterine contractions.
First the baby is delivered, and then the placenta.
Lactation = the production of milk. This is unique to mammals.
Slide 81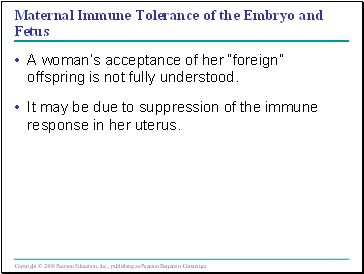 Maternal Immune Tolerance of the Embryo and Fetus
A woman's acceptance of her "foreign" offspring is not fully understood.
It may be due to suppression of the immune response in her uterus.
Slide 82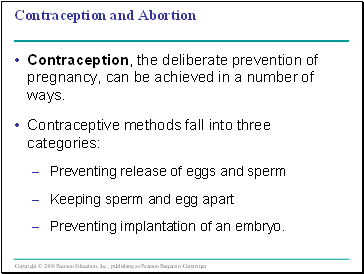 Contraception and Abortion
Contraception, the deliberate prevention of pregnancy, can be achieved in a number of ways.
Contraceptive methods fall into three categories:
Preventing release of eggs and sperm
Keeping sperm and egg apart
Preventing implantation of an embryo.
Slide 83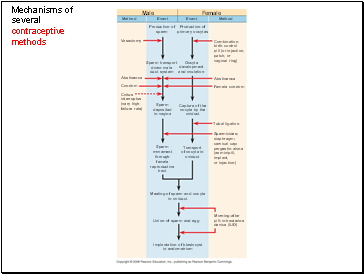 Mechanisms of several contraceptive methods
Male
Female
Method
Event
Event
Method
Production of sperm
Production of primary oocytes
Vasectomy
Combination birth control pill (or injection, patch, or vaginal ring)
Sperm transport down male duct system
Oocyte development and ovulation
Abstinence
Condom
Coitus interruptus (very high failure rate)
Abstinence
Sperm deposited in vagina
Capture of the oocyte by the oviduct
Tubal ligation
Female condom
Sperm movement through female reproductive tract
Transport of oocyte in oviduct
Spermicides; diaphragm; cervical cap; progestin alone (as minipill, implant, or injection)
Meeting of sperm and oocyte in oviduct
Union of sperm and egg
Morning-after pill; intrauterine device (IUD)
Implantation of blastocyst in endometrium
Slide 84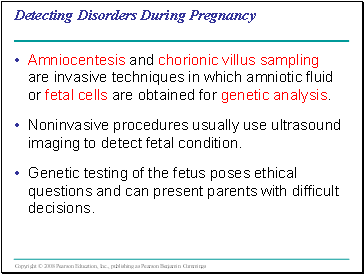 Detecting Disorders During Pregnancy
Amniocentesis and chorionic villus sampling are invasive techniques in which amniotic fluid or fetal cells are obtained for genetic analysis.