Animal Reproduction
Page
3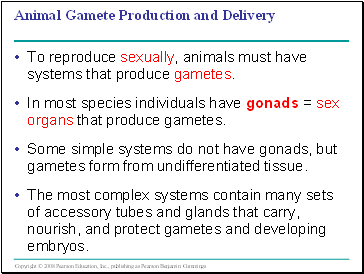 Animal Gamete Production and Delivery
To reproduce sexually, animals must have systems that produce gametes.
In most species individuals have gonads = sex organs that produce gametes.
Some simple systems do not have gonads, but gametes form from undifferentiated tissue.
The most complex systems contain many sets of accessory tubes and glands that carry, nourish, and protect gametes and developing embryos.
Slide 19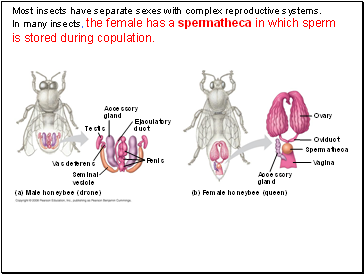 Most insects have separate sexes with complex reproductive systems.
In many insects, the female has a spermatheca in which sperm is stored during copulation.
Accessory gland
Ejaculatory duct
Testis
Vas deferens
Seminal vesicle
Penis
Ovary
Oviduct
Spermatheca
Vagina
Accessory gland
(a) Male honeybee (drone)
(b) Female honeybee (queen)
Slide 20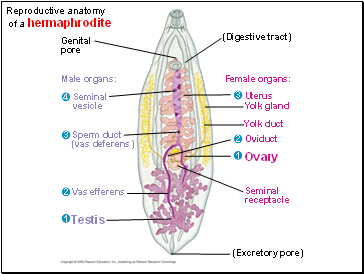 Genital pore
(Digestive tract)
Male organs:
Seminal vesicle
Sperm duct (vas deferens)
Vas efferens
Testis
Female organs:
Uterus Yolk gland
Yolk duct
Oviduct
Ovary
Seminal receptacle
(Excretory pore)
4
3
2
1
3
2
1
Reproductive anatomy
of a hermaphrodite
Slide 21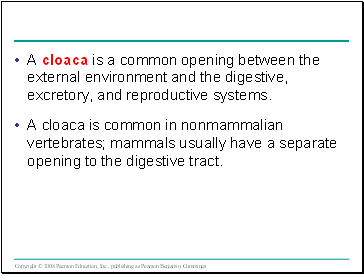 A cloaca is a common opening between the external environment and the digestive, excretory, and reproductive systems.
A cloaca is common in nonmammalian vertebrates; mammals usually have a separate opening to the digestive tract.
Slide 22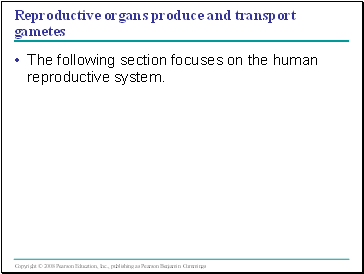 Reproductive organs produce and transport gametes
The following section focuses on the human reproductive system.
Slide 23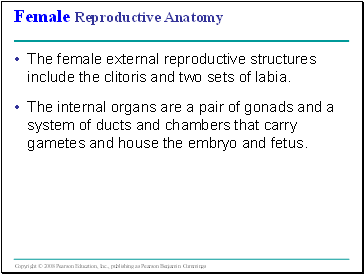 Female Reproductive Anatomy
The female external reproductive structures include the clitoris and two sets of labia.
The internal organs are a pair of gonads and a system of ducts and chambers that carry gametes and house the embryo and fetus.
Slide 24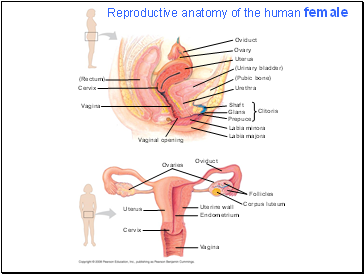 Reproductive anatomy of the human female
Oviduct
Ovary
Uterus
(Urinary bladder)
(Pubic bone)
Urethra
(Rectum)
Cervix
Vagina
Shaft
Glans
Prepuce
Clitoris
Labia minora
Labia majora
Vaginal opening
Ovaries
Uterus
Follicles
Oviduct
Cervix
Corpus luteum
Uterine wall
Endometrium
Vagina
Slide 25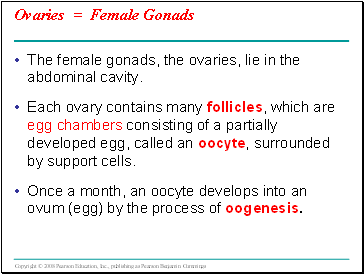 Ovaries = Female Gonads