Animal Reproduction
Page
5
Production of normal sperm cannot occur at the body temperatures of most mammals. So the testes are held outside the abdominal cavity in the scrotum, where the temperature is lower than in the abdominal cavity.
Slide 33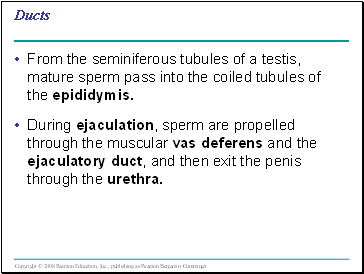 Ducts
From the seminiferous tubules of a testis, mature sperm pass into the coiled tubules of the epididymis.
During ejaculation, sperm are propelled through the muscular vas deferens and the ejaculatory duct, and then exit the penis through the urethra.
Slide 34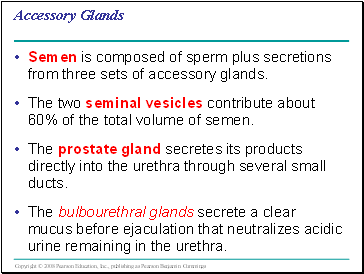 Accessory Glands
Semen is composed of sperm plus secretions from three sets of accessory glands.
The two seminal vesicles contribute about 60% of the total volume of semen.
The prostate gland secretes its products directly into the urethra through several small ducts.
The bulbourethral glands secrete a clear mucus before ejaculation that neutralizes acidic urine remaining in the urethra.
Slide 35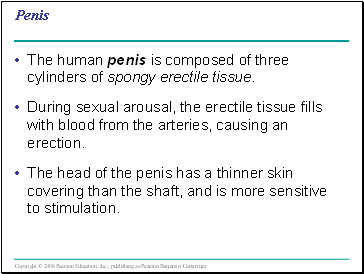 Penis
The human penis is composed of three cylinders of spongy erectile tissue.
During sexual arousal, the erectile tissue fills with blood from the arteries, causing an erection.
The head of the penis has a thinner skin covering than the shaft, and is more sensitive to stimulation.
Slide 36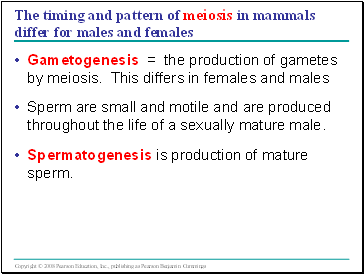 The timing and pattern of meiosis in mammals differ for males and females
Gametogenesis = the production of gametes by meiosis. This differs in females and males
Sperm are small and motile and are produced throughout the life of a sexually mature male.
Spermatogenesis is production of mature sperm.
Slide 37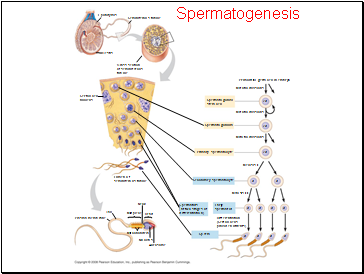 Spermatogenesis
Epididymis
Seminiferous tubule
Testis
Cross section of seminiferous tubule
Sertoli cell nucleus
Primordial germ cell in embryo
Mitotic divisions
Spermatogonial stem cell
Mitotic divisions
Mitotic divisions
Spermatogonium
Primary spermatocyte
Meiosis I
Meiosis II
Secondary spermatocyte
Lumen of seminiferous tubule
Plasma membrane
Tail
Neck
Midpiece
Head
Mitochondria
Nucleus
Acrosome
Spermatids (at two stages of differentiation)
Early spermatid
Differentiation (Sertoli cells provide nutrients)
Sperm
2n
2n
2n
n
n
n
n
n
n
n
n
n
n
Slide 38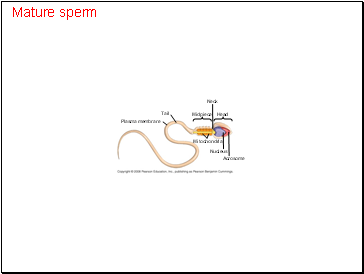 Mature sperm
Plasma membrane
Tail
Neck
Midpiece
Head
Mitochondria
Nucleus
Acrosome
Slide 39