Animal Reproduction
Page
6
Eggs contain stored nutrients and are much larger.
Oogenesis is development of mature oocytes (eggs) and can take many years .
Slide 40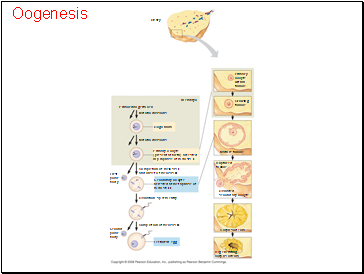 Oogenesis
Ovary
In embryo
Primordial germ cell
Mitotic divisions
Oogonium
Mitotic divisions
Primary oocyte (present at birth), arrested in prophase of meiosis I
First polar body
Completion of meiosis I and onset of meiosis II
Secondary oocyte, arrested at metaphase of meiosis II
Ovulation, sperm entry
Completion of meiosis II
Second polar body
Fertilized egg
Primary oocyte within follicle
Growing follicle
Mature follicle
Ruptured follicle
Ovulated secondary oocyte
Corpus luteum
Degenerating corpus luteum
2n
2n
n
n
n
n
Slide 41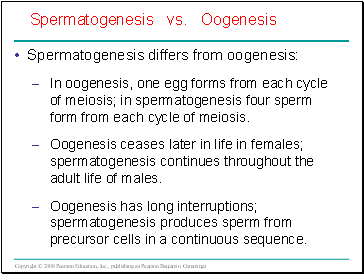 Spermatogenesis differs from oogenesis:
In oogenesis, one egg forms from each cycle of meiosis; in spermatogenesis four sperm form from each cycle of meiosis.
Oogenesis ceases later in life in females; spermatogenesis continues throughout the adult life of males.
Oogenesis has long interruptions; spermatogenesis produces sperm from precursor cells in a continuous sequence.
Spermatogenesis vs. Oogenesis
Slide 42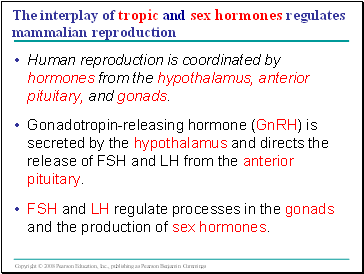 The interplay of tropic and sex hormones regulates mammalian reproduction
Human reproduction is coordinated by hormones from the hypothalamus, anterior pituitary, and gonads.
Gonadotropin-releasing hormone (GnRH) is secreted by the hypothalamus and directs the release of FSH and LH from the anterior pituitary.
FSH and LH regulate processes in the gonads and the production of sex hormones.
Slide 43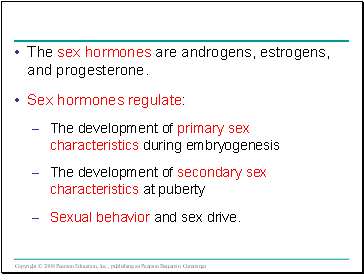 The sex hormones are androgens, estrogens, and progesterone.
Sex hormones regulate:
The development of primary sex characteristics during embryogenesis
The development of secondary sex characteristics at puberty
Sexual behavior and sex drive.
Slide 44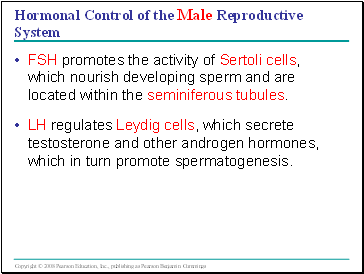 Hormonal Control of the Male Reproductive System
FSH promotes the activity of Sertoli cells, which nourish developing sperm and are located within the seminiferous tubules.
LH regulates Leydig cells, which secrete testosterone and other androgen hormones, which in turn promote spermatogenesis.
Slide 45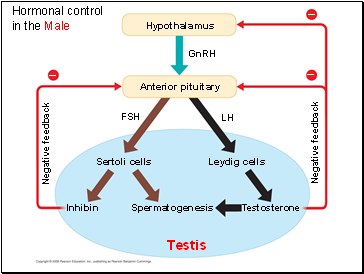 Hormonal control in the Male
Hypothalamus
GnRH
FSH
Anterior pituitary
Sertoli cells
Leydig cells
Inhibin
Spermatogenesis
Testosterone
Testis
LH
Negative feedback