Sir Isaac Newton
Page
8
(1942 – present), one of the most brilliant theoretical physicists in history, wrote the modern classic A Brief History of Time to help non-scientists understand fundamental questions of physics and our existence: where did the universe come from? How and why did it begin? Will it come to an end, and if so, how? In 1963, Hawking contracted motor neurone disease and was given two years to live but he continues to this day to contribute to scientific progress.
My goal is simple. It is a complete understanding of the universe, why it is as it is and why it exists at all.
We are just an advanced breed of monkeys on a minor planet of a very average star. But we can understand the Universe. That makes us something very special.
What very brilliant physicist wrote
"A Brief History of Time?"
Slide 28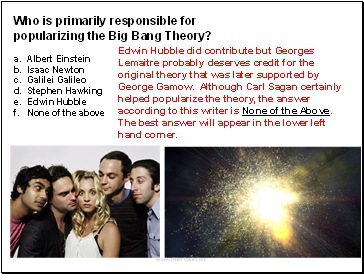 Who is primarily responsible for
popularizing the Big Bang Theory?
Albert Einstein
Isaac Newton
Galilei Galileo
Stephen Hawking
Edwin Hubble
None of the above
Edwin Hubble did contribute but Georges Lemaitre probably deserves credit for the original theory that was later supported by George Gamow. Although Carl Sagan certainly helped popularize the theory, the answer according to this writer is None of the Above. The best answer will appear in the lower left hand corner.
Slide 29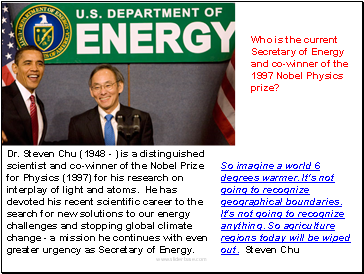 Dr. Steven Chu
(1948 - ) is a distinguished scientist and co-winner of the Nobel Prize for Physics (1997) for his research on interplay of light and atoms. He has devoted his recent scientific career to the search for new solutions to our energy challenges and stopping global climate change - a mission he continues with even greater urgency as Secretary of Energy.
Who is the current Secretary of Energy and co-winner of the 1997 Nobel Physics prize?
So imagine a world 6 degrees warmer. It's not going to recognize geographical boundaries. It's not going to recognize anything. So agriculture regions today will be wiped out. Steven Chu
Slide 30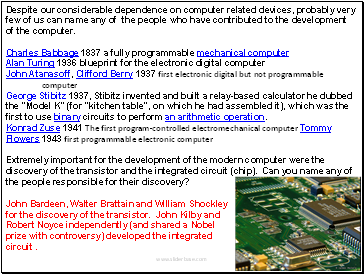 Despite our considerable dependence on computer related devices, probably very few of us can name any of the people who have contributed to the development of the computer.
Charles Babbage 1837 a fully programmable mechanical computer
Alan Turing 1936 blueprint for the electronic digital computer
John Atanasoff, Clifford Berry 1937 first electronic digital but not programmable computer
George Stibitz 1937, Stibitz invented and built a relay-based calculator he dubbed the "Model K" (for "kitchen table", on which he had assembled it), which was the first to use binary circuits to perform an arithetic operation.
Konrad Zuse 1941 The first program-controlled electromechanical computer Tommy Flowers 1943 first programmable electronic computer