Anyong Tubig Anyong Lupa sa Asya
Page
3
Slide 19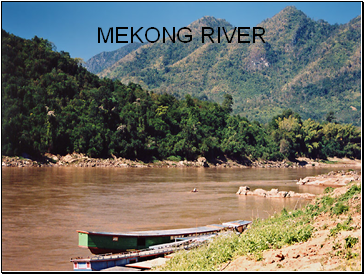 Mekong river
Slide 20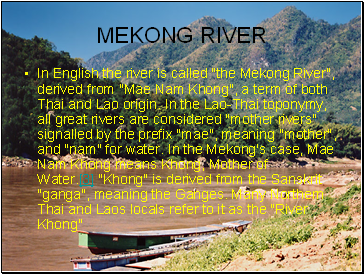 MEKONG RIVER
In English the river is called "the Mekong River", derived from "Mae Nam Khong", a term of both Thai and Lao origin. In the Lao-Thai toponymy, all great rivers are considered "mother rivers" signalled by the prefix "mae", meaning "mother", and "nam" for water. In the Mekong's case, Mae Nam Khong means Khong, Mother of Water.[3] "Khong" is derived from the Sanskrit "ganga", meaning the Ganges. Many Northern Thai and Laos locals refer to it as the "River Khong"
Slide 21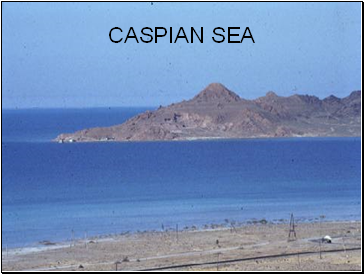 Caspian sea
Slide 22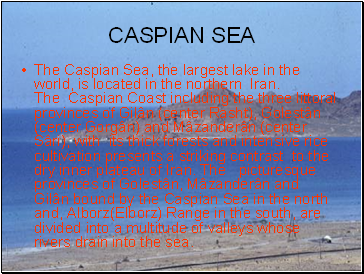 CASPIAN SEA
The Caspian Sea, the largest lake in the world, is located in the northern Iran. The Caspian Coast including the three littoral provinces of Gilân (center Rasht), Golestân (center Gorgân) and Mâzanderân (center Sâri), with its thick forests and intensive rice cultivation presents a striking contrast to the dry inner plateau of Iran. The picturesque provinces of Golestân, Mâzanderân and Gilân bound by the Caspian Sea in the north and, Alborz(Elborz) Range in the south, are divided into a multitude of valleys whose rivers drain into the sea.
Slide 23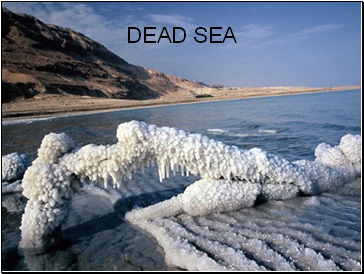 Dead sea
Slide 24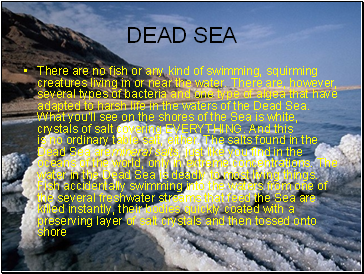 DEAD SEA
There are no fish or any kind of swimming, squirming creatures living in or near the water. There are, however, several types of bacteria and one type of algea that have adapted to harsh life in the waters of the Dead Sea. What you'll see on the shores of the Sea is white, crystals of salt covering EVERYTHING. And this is no ordinary table salt, either. The salts found in the Dead Sea aremineral salts, just like you find in the oceans of the world, only in extreme concentrations. The water in the Dead Sea is deadly to most living things. Fish accidentally swimming into the waters from one of the several freshwater streams that feed the Sea are killed instantly, their bodies quickly coated with a preserving layer of salt crystals and then tossed onto shore
Slide 25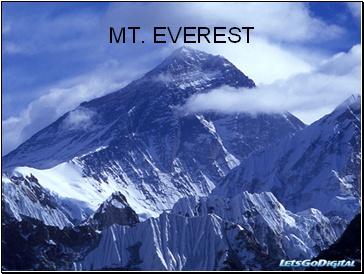 Mt. Everest
Slide 26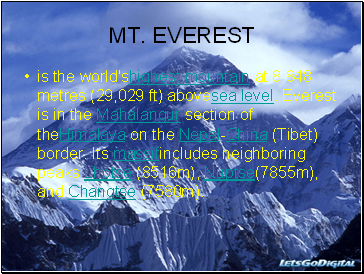 MT. EVEREST
is the world'shighest mountain at 8,848 metres (29,029 ft) abovesea level. Everest is in the Mahalangur section of theHimalaya on the Nepal-China (Tibet) border. Its massifincludes neighboring peaks Lhotse (8516m), Nuptse(7855m), and Changtse (7580m).