Anyong Tubig Anyong Lupa sa Asya
Page
5
Slide 36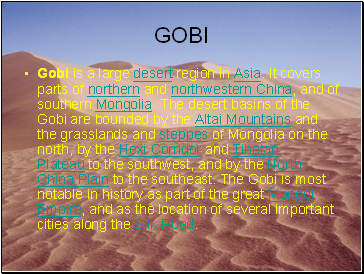 GOBI
Gobi is a large desert region in Asia. It covers parts of northern and northwestern China, and of southern Mongolia. The desert basins of the Gobi are bounded by the Altai Mountains and the grasslands and steppes of Mongolia on the north, by the Hexi Corridor and Tibetan Plateau to the southwest, and by the North China Plain to the southeast. The Gobi is most notable in history as part of the great Mongol Empire, and as the location of several important cities along the Silk Road.
Slide 37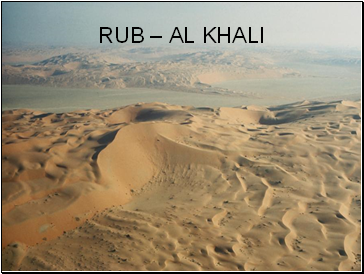 Rub – al khali
Slide 38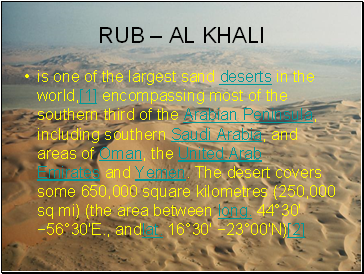 RUB – AL KHALI
is one of the largest sand deserts in the world,[1] encompassing most of the southern third of the Arabian Peninsula, including southern Saudi Arabia, and areas of Oman, the United Arab Emirates and Yemen. The desert covers some 650,000 square kilometres (250,000 sq mi) (the area between long. 44°30′ −56°30′E., andlat. 16°30′ −23°00′N)[2]
Slide 39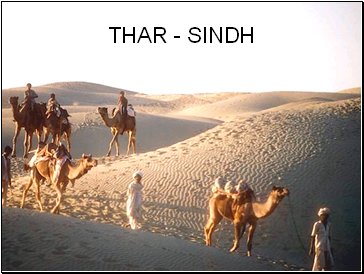 Thar - sindh
Slide 40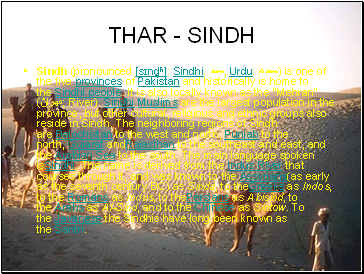 THAR - SINDH
Sindh (pronounced [sɪnd̪ʱ]: Sindhi: سنڌ, Urdu: سندھ) is one of the five provinces of Pakistan and historically is home to the Sindhi people. It is also locally known as the "Mehran" (مهراڻ; River). Sindhi Muslims are the largest population in the province, but other cultural, religious and ethnic groups also reside in Sindh. The neighboring regions of Sindh are Balochistan to the west and north, Punjab to the north, Gujarat andRajasthan to the southeast and east, and the Arabian Sea to the south. The main language spoken isSindhi. The name is derived from the Indus River that courses through it, and was known to the Assyrians(as early as the seventh century BC) as Sinda, to theGreeks as Indos, to the Romans as Indus, to thePersians as Abisind, to the Arabs as Al-Sind, and to the Chinese as Sintow. To the Javanese the Sindhis have long been known as the Santri.
Slide 41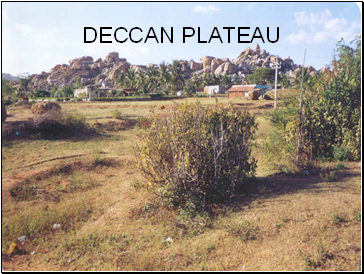 Deccan plateau
Slide 42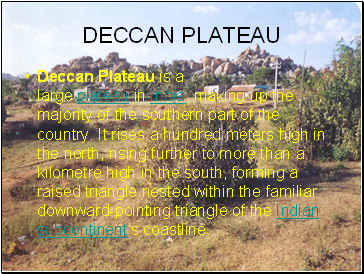 DECCAN PLATEAU
Deccan Plateau is a large plateau in India, making up the majority of the southern part of the country. It rises a hundred meters high in the north, rising further to more than a kilometre high in the south, forming a raised triangle nested within the familiar downward-pointing triangle of the Indian subcontinent's coastline.