Anyong Tubig Anyong Lupa sa Asya
Page
4
Slide 27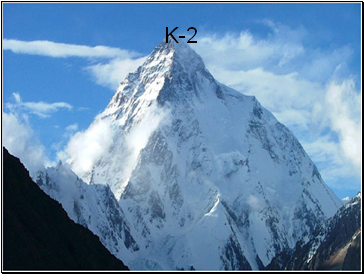 K-2
Slide 28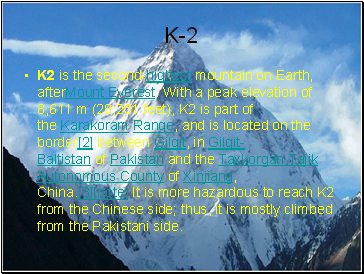 K-2
K2 is the second-highest mountain on Earth, afterMount Everest. With a peak elevation of 8,611 m (28,251 feet), K2 is part of the Karakoram Range, and is located on the border[2] between Gilgit, in Gilgit-Baltistan of Pakistan and the Taxkorgan Tajik Autonomous County of Xinjiang, China.[3][note] It is more hazardous to reach K2 from the Chinese side; thus, it is mostly climbed from the Pakistani side.
Slide 29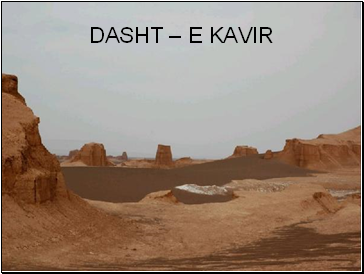 Dasht – E kavir
Slide 30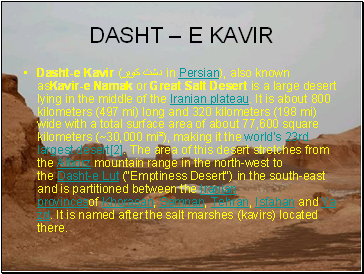 DASHT – E KAVIR
Dasht-e Kavir (دشت كوير in Persian), also known asKavir-e Namak or Great Salt Desert is a large desert lying in the middle of the Iranian plateau. It is about 800 kilometers (497 mi) long and 320 kilometers (198 mi) wide with a total surface area of about 77,600 square kilometers (~30,000 mi²), making it the world's 23rd largest desert[2]. The area of this desert stretches from the Alborz mountain range in the north-west to the Dasht-e Lut ("Emptiness Desert") in the south-east and is partitioned between the Iranian provincesof Khorasan, Semnan, Tehran, Isfahan and Yazd. It is named after the salt marshes (kavirs) located there.
Slide 31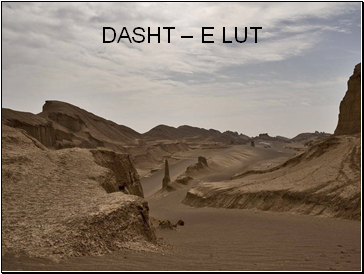 Dasht – E lut
Slide 32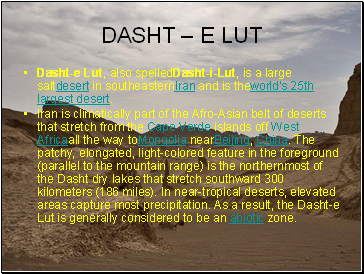 DASHT – E LUT
Dasht-e Lut, also spelledDasht-i-Lut, is a large saltdesert in southeasternIran and is theworld's 25th largest desert.
Iran is climatically part of the Afro-Asian belt of deserts that stretch from the Cape Verde islands off West Africaall the way toMongolia nearBeijing, China. The patchy, elongated, light-colored feature in the foreground (parallel to the mountain range) is the northernmost of the Dasht dry lakes that stretch southward 300 kilometers (186 miles). In near-tropical deserts, elevated areas capture most precipitation. As a result, the Dasht-e Lut is generally considered to be an abiotic zone.
Slide 33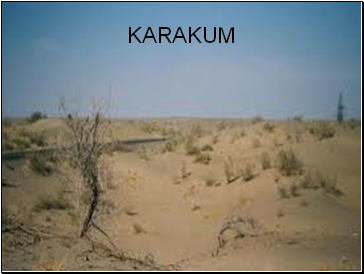 Karakum
Slide 34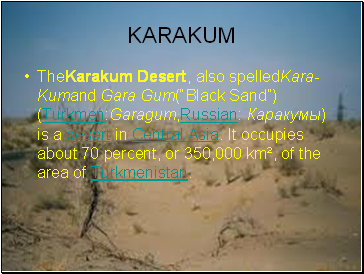 KARAKUM
TheKarakum Desert, also spelledKara-Kumand Gara Gum("Black Sand") (Turkmen:Garagum,Russian: Êàðàêóìû) is a desert in Central Asia. It occupies about 70 percent, or 350,000 km², of the area of Turkmenistan.
Slide 35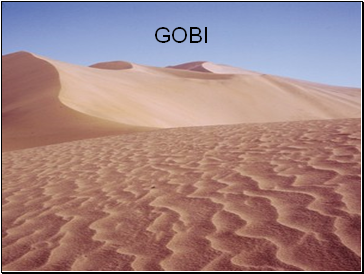 Gobi