Hormones and the Endocrine System
Page
2
Local regulators are divided into two types:
Paracrine signals act on cells near the secreting cell.
Autocrine signals act on the secreting cell itself.
Slide 9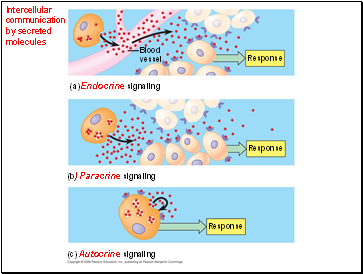 Intercellular communication by secreted molecules
Blood
vessel
Response
Response
Response
(a) Endocrine signaling
(b) Paracrine signaling
(c) Autocrine signaling
Slide 10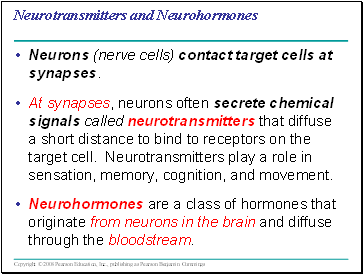 Neurotransmitters and Neurohormones
Neurons (nerve cells) contact target cells at synapses.
At synapses, neurons often secrete chemical signals called neurotransmitters that diffuse a short distance to bind to receptors on the target cell. Neurotransmitters play a role in sensation, memory, cognition, and movement.
Neurohormones are a class of hormones that originate from neurons in the brain and diffuse through the bloodstream.
Slide 11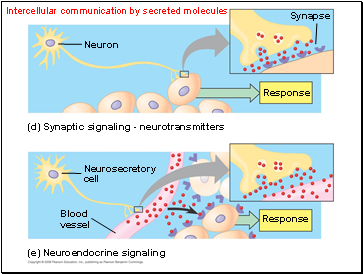 Intercellular communication by secreted molecules
Response
(d) Synaptic signaling - neurotransmitters
Neuron
Neurosecretory
cell
(e) Neuroendocrine signaling
Blood
vessel
Synapse
Response
Slide 12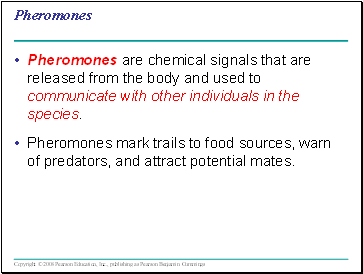 Pheromones
Pheromones are chemical signals that are released from the body and used to communicate with other individuals in the species.
Pheromones mark trails to food sources, warn of predators, and attract potential mates.
Slide 13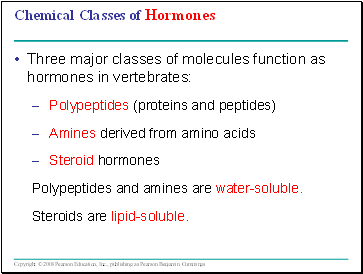 Chemical Classes of Hormones
Three major classes of molecules function as hormones in vertebrates:
Polypeptides (proteins and peptides)
Amines derived from amino acids
Steroid hormones
Polypeptides and amines are water-soluble.
Steroids are lipid-soluble.
Slide 14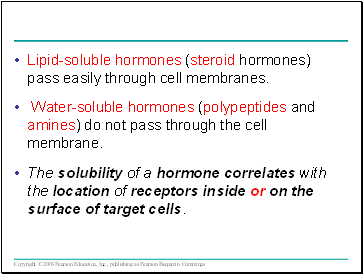 Lipid-soluble hormones (steroid hormones) pass easily through cell membranes.
Water-soluble hormones (polypeptides and amines) do not pass through the cell membrane.
The solubility of a hormone correlates with the location of receptors inside or on the surface of target cells.
Slide 15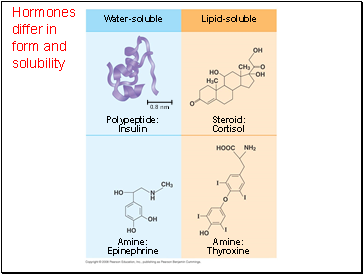 Hormones differ in form and solubility
Water-soluble
Lipid-soluble
Steroid:
Cortisol
Polypeptide:
Insulin
Amine:
Epinephrine
Amine:
Thyroxine
0.8 nm
Slide 16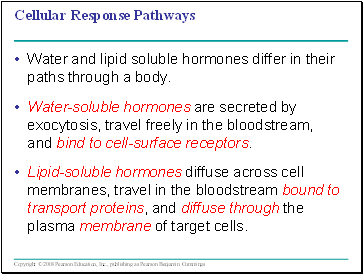 Cellular Response Pathways
Water and lipid soluble hormones differ in their paths through a body.