Hormones and the Endocrine System
Page
7
This is an example of positive feedback, where the stimulus leads to an even greater response
Antidiuretic hormone (ADH) enhances water reabsorption in the kidneys
Slide 46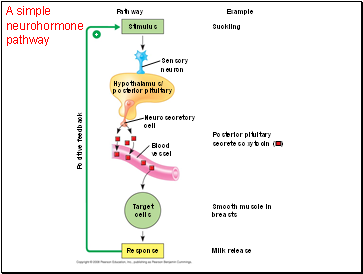 A simple neurohormone pathway
Suckling
Pathway
Stimulus
Hypothalamus/ posterior pituitary
Positive feedback
Example
Sensory neuron
Neurosecretory cell
Blood vessel
Posterior pituitary secretes oxytocin ( )
Target cells
Response
Smooth muscle in breasts
Milk release
+
Slide 47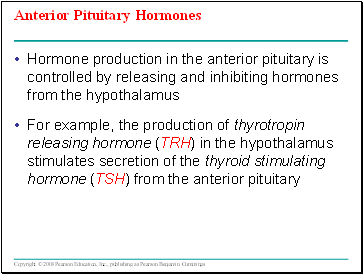 Anterior Pituitary Hormones
Hormone production in the anterior pituitary is controlled by releasing and inhibiting hormones from the hypothalamus
For example, the production of thyrotropin releasing hormone (TRH) in the hypothalamus stimulates secretion of the thyroid stimulating hormone (TSH) from the anterior pituitary
Slide 48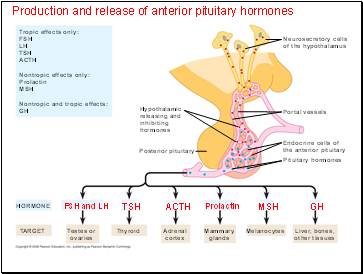 Production and release of anterior pituitary hormones
Hypothalamic releasing and inhibiting hormones
Neurosecretory cells of the hypothalamus
HORMONE
TARGET
Posterior pituitary
Portal vessels
Endocrine cells of the anterior pituitary
Pituitary hormones
Tropic effects only: FSH LH TSH ACTH
Nontropic effects only: Prolactin MSH
Nontropic and tropic effects: GH
Testes or ovaries
Thyroid
FSH and LH
TSH
Adrenal cortex
Mammary glands
ACTH
Prolactin
MSH
GH
Melanocytes
Liver, bones, other tissues
Slide 49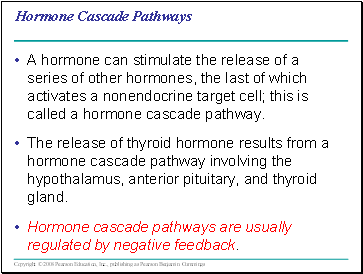 Hormone Cascade Pathways
A hormone can stimulate the release of a series of other hormones, the last of which activates a nonendocrine target cell; this is called a hormone cascade pathway.
The release of thyroid hormone results from a hormone cascade pathway involving the hypothalamus, anterior pituitary, and thyroid gland.
Hormone cascade pathways are usually regulated by negative feedback.
Slide 50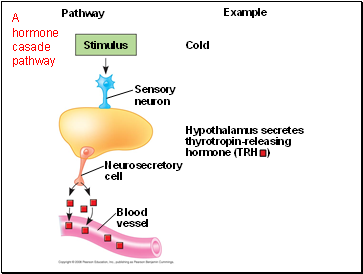 Cold
Pathway
Stimulus
Blood vessel
Example
Sensory neuron
Hypothalamus secretes thyrotropin-releasing hormone (TRH )
Neurosecretory cell
A hormone
casade
pathway
Slide 51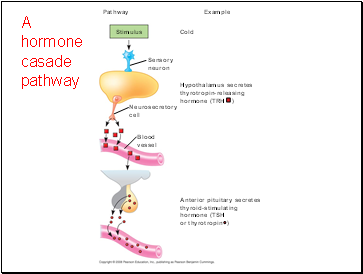 Cold
Pathway
Stimulus
Hypothalamus secretes thyrotropin-releasing hormone (TRH )
Example
Sensory neuron
Neurosecretory cell
Blood vessel
+
Anterior pituitary secretes
thyroid-stimulating
hormone (TSH
or thyrotropin )
A hormone
casade
pathway
Slide 52