Hormones and the Endocrine System
Page
6
It is marked by elevated blood glucose levels.
Type I diabetes mellitus (insulin-dependent) is an autoimmune disorder in which the immune system destroys pancreatic beta cells.
Type II diabetes mellitus (non-insulin-dependent) involves insulin deficiency or reduced response of target cells due to change in insulin receptors.
Slide 37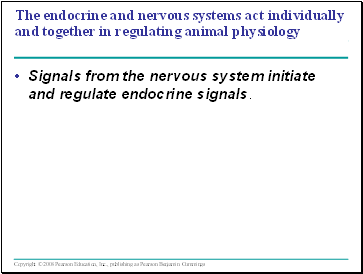 The endocrine and nervous systems act individually and together in regulating animal physiology
Signals from the nervous system initiate and regulate endocrine signals.
Slide 38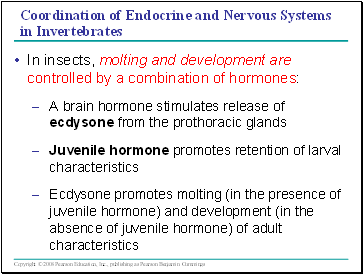 Coordination of Endocrine and Nervous Systems in Invertebrates
In insects, molting and development are controlled by a combination of hormones:
A brain hormone stimulates release of ecdysone from the prothoracic glands
Juvenile hormone promotes retention of larval characteristics
Ecdysone promotes molting (in the presence of juvenile hormone) and development (in the absence of juvenile hormone) of adult characteristics
Slide 39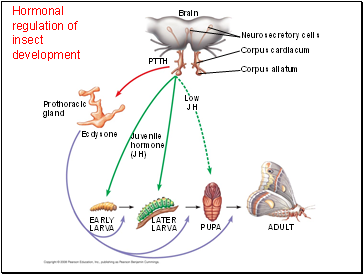 Hormonal regulation of insect development
Ecdysone
Brain
PTTH
EARLY LARVA
Neurosecretory cells
Corpus cardiacum
Corpus allatum
LATER
LARVA
PUPA
ADULT
Low
JH
Juvenile
hormone
(JH)
Prothoracic
gland
Slide 40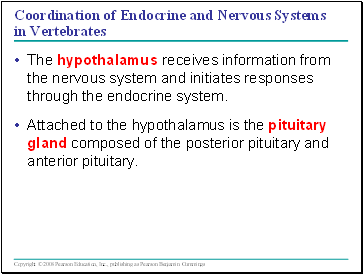 Coordination of Endocrine and Nervous Systems in Vertebrates
The hypothalamus receives information from the nervous system and initiates responses through the endocrine system.
Attached to the hypothalamus is the pituitary gland composed of the posterior pituitary and anterior pituitary.
Slide 41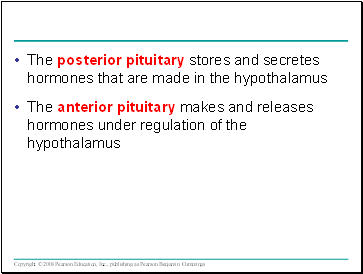 The posterior pituitary stores and secretes hormones that are made in the hypothalamus
The anterior pituitary makes and releases hormones under regulation of the hypothalamus
Slide 42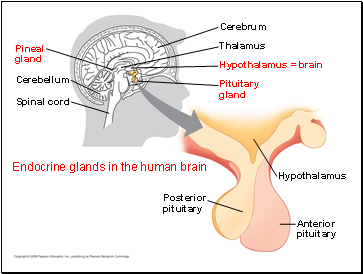 Endocrine glands in the human brain
Spinal cord
Posterior
pituitary
Cerebellum
Pineal
gland
Anterior
pituitary
Hypothalamus
Pituitary
gland
Hypothalamus = brain
Thalamus
Cerebrum
Slide 43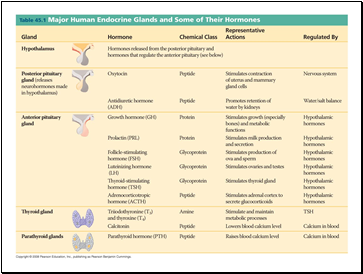 Slide 44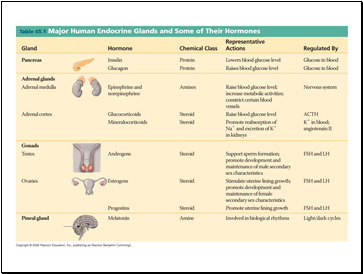 Slide 45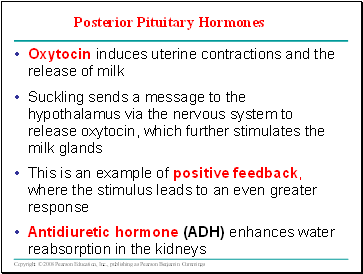 Posterior Pituitary Hormones
Oxytocin induces uterine contractions and the release of milk
Suckling sends a message to the hypothalamus via the nervous system to release oxytocin, which further stimulates the milk glands