Hormones and the Endocrine System
Page
4
are
inside
the cell
and
directly regulate gene expression
Hormone
(estradiol)
Hormone-receptor
complex
Plasma
membrane
Estradiol
(estrogen)
receptor
DNA
Vitellogenin
mRNA
for vitellogenin
Slide 24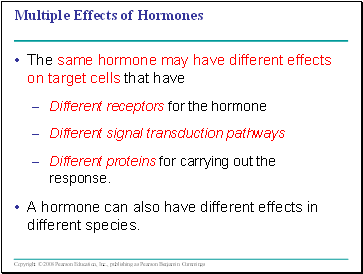 Multiple Effects of Hormones
The same hormone may have different effects on target cells that have
Different receptors for the hormone
Different signal transduction pathways
Different proteins for carrying out the response.
A hormone can also have different effects in different species.
Slide 25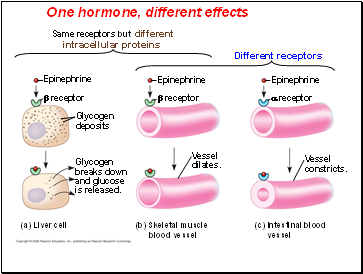 One hormone, different effects
Glycogen
deposits
 receptor
Vessel
dilates.
Epinephrine
(a) Liver cell
Epinephrine
 receptor
Glycogen
breaks down
and glucose
is released.
(b) Skeletal muscle
blood vessel
Same receptors but different
intracellular proteins
Epinephrine
 receptor
Different receptors
Epinephrine
 receptor
Vessel
constricts.
(c) Intestinal blood
vessel
Slide 26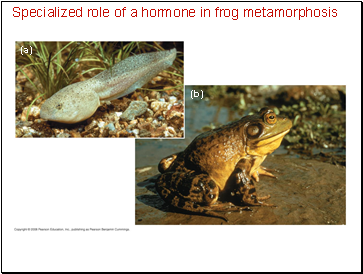 Specialized role of a hormone in frog metamorphosis
(a)
(b)
Slide 27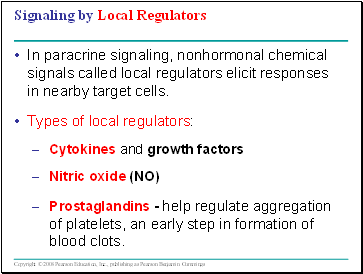 Signaling by Local Regulators
In paracrine signaling, nonhormonal chemical signals called local regulators elicit responses in nearby target cells.
Types of local regulators:
Cytokines and growth factors
Nitric oxide (NO)
Prostaglandins - help regulate aggregation of platelets, an early step in formation of blood clots.
Slide 28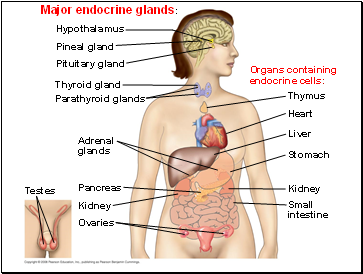 Major endocrine glands:
Adrenal
glands
Hypothalamus
Pineal gland
Pituitary gland
Thyroid gland
Parathyroid glands
Pancreas
Kidney
Ovaries
Testes
Organs containing
endocrine cells:
Thymus
Heart
Liver
Stomach
Kidney
Small
intestine
Slide 29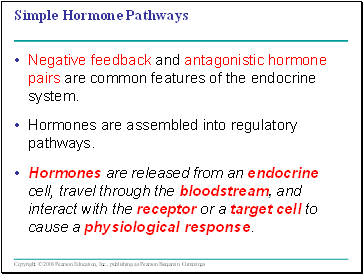 Simple Hormone Pathways
Negative feedback and antagonistic hormone pairs are common features of the endocrine system.
Hormones are assembled into regulatory pathways.
Hormones are released from an endocrine cell, travel through the bloodstream, and interact with the receptor or a target cell to cause a physiological response.
Slide 30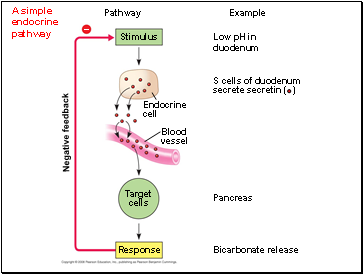 A simple endocrine pathway
Pathway
Example
Stimulus
Low pH in
duodenum
S cells of duodenum