Animal Behavior
Page
5
Development of some behaviors occurs in distinct stages.
For example a white-crowned sparrow memorizes the song of its species during an early sensitive period.
The bird then learns to sing the song during a second learning phase.
Slide 34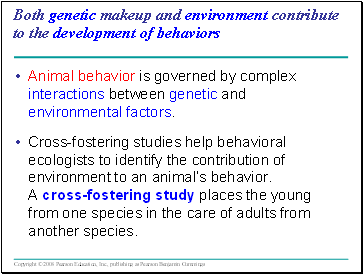 Both genetic makeup and environment contribute to the development of behaviors
Animal behavior is governed by complex interactions between genetic and environmental factors.
Cross-fostering studies help behavioral ecologists to identify the contribution of environment to an animal's behavior. A cross-fostering study places the young from one species in the care of adults from another species.
Slide 35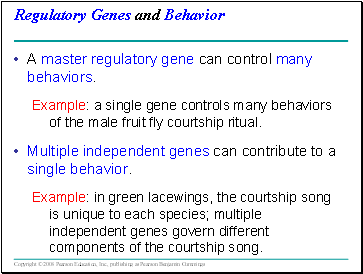 Regulatory Genes and Behavior
A master regulatory gene can control many behaviors.
Example: a single gene controls many behaviors of the male fruit fly courtship ritual.
Multiple independent genes can contribute to a single behavior.
Example: in green lacewings, the courtship song is unique to each species; multiple independent genes govern different components of the courtship song.
Slide 36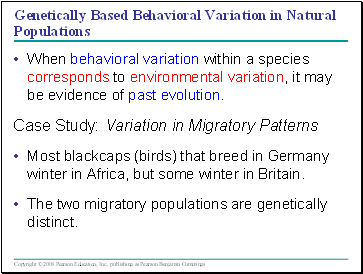 Genetically Based Behavioral Variation in Natural Populations
When behavioral variation within a species corresponds to environmental variation, it may be evidence of past evolution.
Case Study: Variation in Migratory Patterns
Most blackcaps (birds) that breed in Germany winter in Africa, but some winter in Britain.
The two migratory populations are genetically distinct.
Slide 37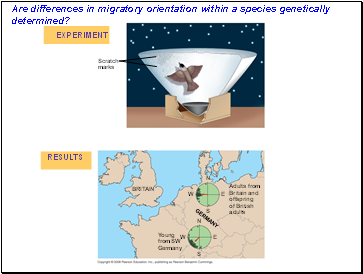 Are differences in migratory orientation within a species genetically determined?
Scratch
marks
EXPERIMENT
RESULTS
BRITAIN
Young
from SW
Germany
Adults from
Britain and
offspring
of British
adults
GERMANY
N
W
E
S
N
W
E
S
Slide 38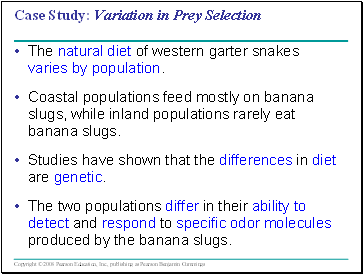 Case Study: Variation in Prey Selection
The natural diet of western garter snakes varies by population.
Coastal populations feed mostly on banana slugs, while inland populations rarely eat banana slugs.
Studies have shown that the differences in diet are genetic.
The two populations differ in their ability to detect and respond to specific odor molecules produced by the banana slugs.
Slide 39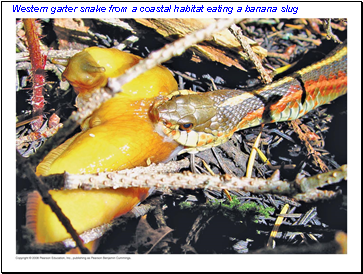 Western garter snake from a coastal habitat eating a banana slug
Slide 40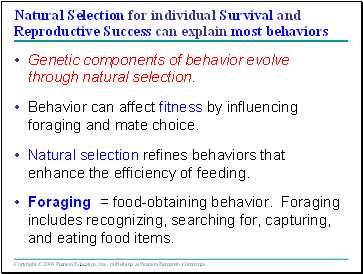 Natural Selection for individual Survival and Reproductive Success can explain most behaviors