Animal Behavior
Page
3
A bee returning from the field performs a dance to communicate information about the position of a food source.
Slide 18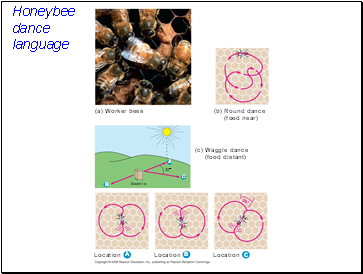 Honeybee dance language
(a) Worker bees
Round dance
(food near)
(b)
Waggle dance
(food distant)
(c)
Beehive
30°
A
C
B
A
B
C
Location
Location
Location
30°
Slide 19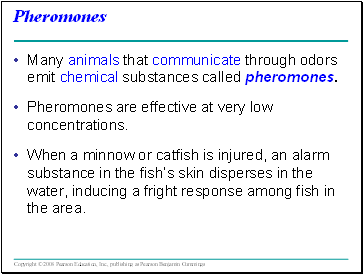 Pheromones
Many animals that communicate through odors emit chemical substances called pheromones.
Pheromones are effective at very low concentrations.
When a minnow or catfish is injured, an alarm substance in the fish's skin disperses in the water, inducing a fright response among fish in the area.
Slide 20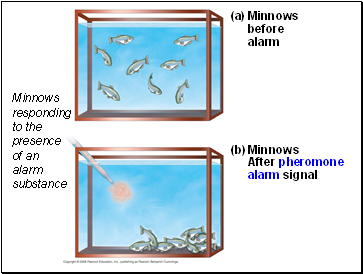 Minnows responding to the presence
of an
alarm substance
Minnows
before
alarm
(a)
Minnows
After pheromone
alarm signal
(b)
Slide 21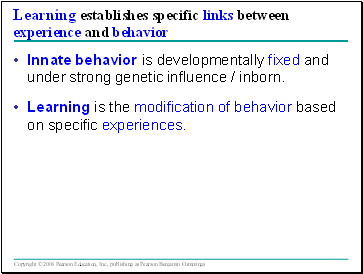 Learning establishes specific links between experience and behavior
Innate behavior is developmentally fixed and under strong genetic influence / inborn.
Learning is the modification of behavior based on specific experiences.
Slide 22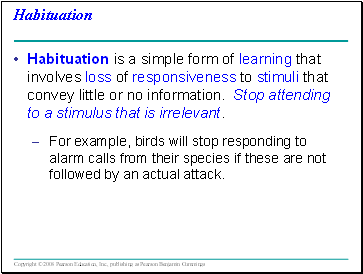 Habituation
Habituation is a simple form of learning that involves loss of responsiveness to stimuli that convey little or no information. Stop attending to a stimulus that is irrelevant.
For example, birds will stop responding to alarm calls from their species if these are not followed by an actual attack.
Slide 23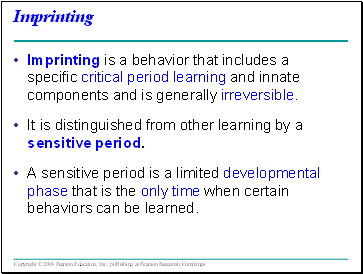 Imprinting
Imprinting is a behavior that includes a specific critical period learning and innate components and is generally irreversible.
It is distinguished from other learning by a sensitive period.
A sensitive period is a limited developmental phase that is the only time when certain behaviors can be learned.
Slide 24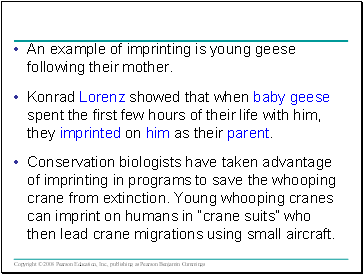 An example of imprinting is young geese following their mother.
Konrad Lorenz showed that when baby geese spent the first few hours of their life with him, they imprinted on him as their parent.
Conservation biologists have taken advantage of imprinting in programs to save the whooping crane from extinction. Young whooping cranes can imprint on humans in "crane suits" who then lead crane migrations using small aircraft.
Slide 25