Pride and prejudice
Page
9
A little later, Mr. Bennet receives a letter from Mr. Gardiner. Lydia and Wickham are not yet married but will be if Mr. Bennet agrees to certain conditions.
Slide 45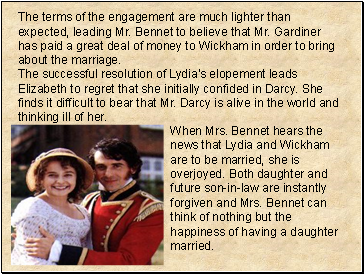 The terms of the engagement are much lighter than expected, leading Mr. Bennet to believe that Mr. Gardiner has paid a great deal of money to Wickham in order to bring about the marriage.
The successful resolution of Lydia's elopement leads Elizabeth to regret that she initially confided in Darcy. She finds it difficult to bear that Mr. Darcy is alive in the world and thinking ill of her.
When Mrs. Bennet hears the news that Lydia and Wickham are to be married, she is overjoyed. Both daughter and future son-in-law are instantly forgiven and Mrs. Bennet can think of nothing but the happiness of having a daughter married.
Slide 46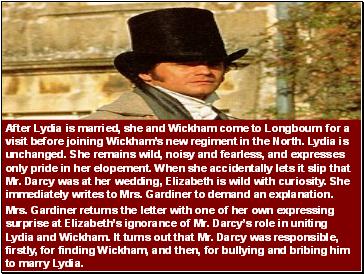 After Lydia is married, she and Wickham come to Longbourn for a visit before joining Wickham's new regiment in the North. Lydia is unchanged. She remains wild, noisy and fearless, and expresses only pride in her elopement. When she accidentally lets it slip that Mr. Darcy was at her wedding, Elizabeth is wild with curiosity. She immediately writes to Mrs. Gardiner to demand an explanation.
Mrs. Gardiner returns the letter with one of her own expressing surprise at Elizabeth's ignorance of Mr. Darcy's role in uniting Lydia and Wickham. It turns out that Mr. Darcy was responsible, firstly, for finding Wickham, and then, for bullying and bribing him to marry Lydia.
Slide 47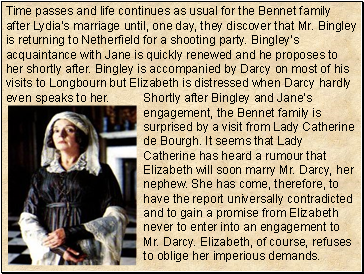 Time passes and life continues as usual for the Bennet family after Lydia's marriage until, one day, they discover that Mr. Bingley is returning to Netherfield for a shooting party. Bingley's acquaintance with Jane is quickly renewed and he proposes to her shortly after. Bingley is accompanied by Darcy on most of his visits to Longbourn but Elizabeth is distressed when Darcy hardly even speaks to her.
Shortly after Bingley and Jane's engagement, the Bennet family is surprised by a visit from Lady Catherine de Bourgh. It seems that Lady Catherine has heard a rumour that Elizabeth will soon marry Mr. Darcy, her nephew. She has come, therefore, to have the report universally contradicted and to gain a promise from Elizabeth never to enter into an engagement to Mr. Darcy. Elizabeth, of course, refuses to oblige her imperious demands.
Slide 48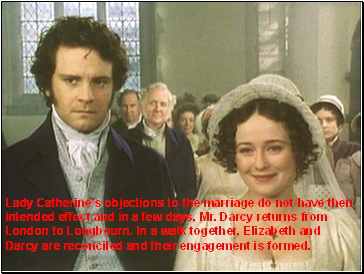 Lady Catherine's objections to the marriage do not have their intended effect and in a few days, Mr. Darcy returns from London to Longbourn. In a walk together, Elizabeth and Darcy are reconciled and their engagement is formed.
Slide 49