Pride and prejudice
Page
8
Meanwhile, Darcy has arrived at Pemberley and is taking a swim in his lake. Just as he is walking back to the house he stumbles upon Elizabeth who is exploring the park. Both are surprised and speechless. They exchange polite greetings before Darcy rushes off. Elizabeth is embarrassed and declares that they must leave immediately but before they reach their carriage, Darcy reappears.
He is friendly and open towards Elizabeth and the Gardiners. Elizabeth is astonished at the drastic change in his character. Darcy reveals that Georgiana, Mr. Bingley and Mr. Bingley's sisters will arrive at Pemberley on the next day and they all part amiably.
Slide 42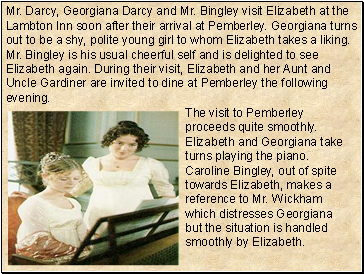 Mr. Darcy, Georgiana Darcy and Mr. Bingley visit Elizabeth at the Lambton Inn soon after their arrival at Pemberley. Georgiana turns out to be a shy, polite young girl to whom Elizabeth takes a liking. Mr. Bingley is his usual cheerful self and is delighted to see Elizabeth again. During their visit, Elizabeth and her Aunt and Uncle Gardiner are invited to dine at Pemberley the following evening.
The visit to Pemberley proceeds quite smoothly. Elizabeth and Georgiana take turns playing the piano. Caroline Bingley, out of spite towards Elizabeth, makes a reference to Mr. Wickham which distresses Georgiana but the situation is handled smoothly by Elizabeth.
Slide 43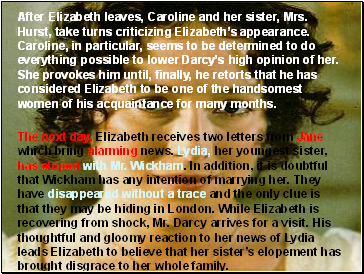 After Elizabeth leaves, Caroline and her sister, Mrs. Hurst, take turns criticizing Elizabeth's appearance. Caroline, in particular, seems to be determined to do everything possible to lower Darcy's high opinion of her. She provokes him until, finally, he retorts that he has considered Elizabeth to be one of the handsomest women of his acquaintance for many months.
The next day, Elizabeth receives two letters from Jane which bring alarming news. Lydia, her youngest sister, has eloped with Mr. Wickham. In addition, it is doubtful that Wickham has any intention of marrying her. They have disappeared without a trace and the only clue is that they may be hiding in London. While Elizabeth is recovering from shock, Mr. Darcy arrives for a visit. His thoughtful and gloomy reaction to her news of Lydia leads Elizabeth to believe that her sister's elopement has brought disgrace to her whole family.
Slide 44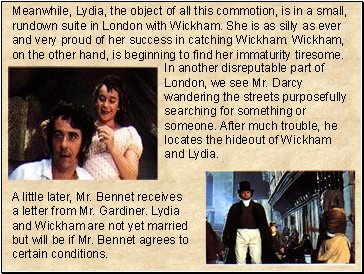 Meanwhile, Lydia, the object of all this commotion, is in a small, rundown suite in London with Wickham. She is as silly as ever and very proud of her success in catching Wickham. Wickham, on the other hand, is beginning to find her immaturity tiresome.
In another disreputable part of London, we see Mr. Darcy wandering the streets purposefully searching for something or someone. After much trouble, he locates the hideout of Wickham and Lydia.