Pride and prejudice
Page
10
The story ends with a double wedding between Elizabeth and Darcy, and Jane and Bingley.
Slide 50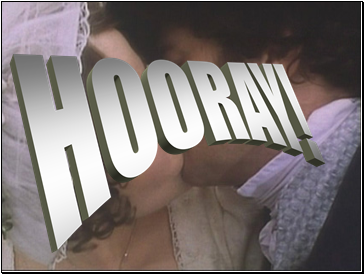 HOORAY!
Slide 51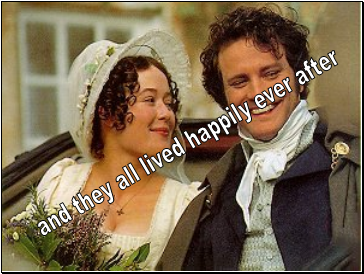 and they all lived happily ever after
Slide 52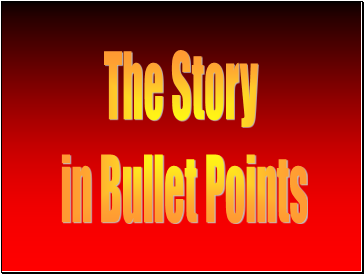 The Story in Bullet Points
Slide 53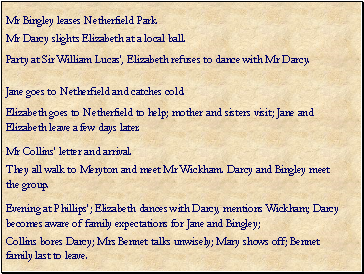 Mr Bingley leases Netherfield Park.
Mr Darcy slights Elizabeth at a local ball.
Party at Sir William Lucas', Elizabeth refuses to dance with Mr Darcy.
Jane goes to Netherfield and catches cold.
Elizabeth goes to Netherfield to help; mother and sisters visit; Jane and Elizabeth leave a few days later.
Mr Collins' letter and arrival.
They all walk to Meryton and meet Mr Wickham. Darcy and Bingley meet the group.
Evening at Phillips'; Elizabeth dances with Darcy, mentions Wickham; Darcy becomes aware of family expectations for Jane and Bingley;
Collins bores Darcy; Mrs Bennet talks unwisely; Mary shows off; Bennet family last to leave.
Slide 54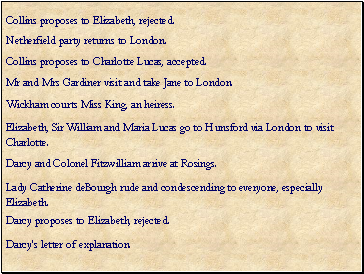 Collins proposes to Elizabeth, rejected.
Netherfield party returns to London.
Collins proposes to Charlotte Lucas, accepted.
Mr and Mrs Gardiner visit and take Jane to London.
Wickham courts Miss King, an heiress.
Elizabeth, Sir William and Maria Lucas go to Hunsford via London to visit Charlotte.
Darcy and Colonel Fitzwilliam arrive at Rosings.
Lady Catherine deBourgh rude and condescending to everyone, especially Elizabeth.
Darcy proposes to Elizabeth, rejected.
Darcy's letter of explanation.
Slide 55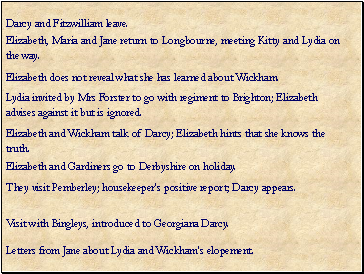 Darcy and Fitzwilliam leave.
Elizabeth, Maria and Jane return to Longbourne, meeting Kitty and Lydia on the way.
Elizabeth does not reveal what she has learned about Wickham.
Lydia invited by Mrs Forster to go with regiment to Brighton; Elizabeth advises against it but is ignored.
Elizabeth and Wickham talk of Darcy; Elizabeth hints that she knows the truth.
Elizabeth and Gardiners go to Derbyshire on holiday.
They visit Pemberley; housekeeper's positive report; Darcy appears.
Visit with Bingleys, introduced to Georgiana Darcy.
Letters from Jane about Lydia and Wickham's elopement.
Slide 56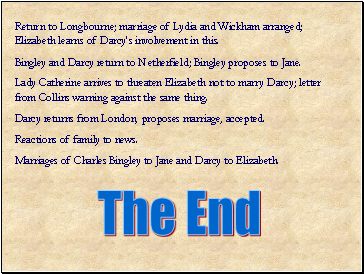 Return to Longbourne; marriage of Lydia and Wickham arranged; Elizabeth learns of Darcy's involvement in this.
Bingley and Darcy return to Netherfield; Bingley proposes to Jane.
Lady Catherine arrives to threaten Elizabeth not to marry Darcy; letter from Collins warning against the same thing.