Pride and prejudice
Page
4
Sister to Charles and Caroline Bingley. Married to the indolent Mr Hurst. She is every bit as snobbish as her sister and most disapproving of the Bennet family as a prospective connection for her brother.
Slide 23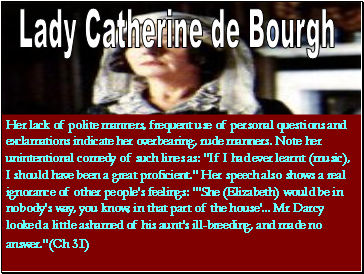 Lady Catherine de Bourgh
Her lack of polite manners, frequent use of personal questions and exclamations indicate her overbearing, rude manners. Note her unintentional comedy of such lines as: "If I had ever learnt (music), I should have been a great proficient." Her speech also shows a real ignorance of other people's feelings: "'She (Elizabeth) would be in nobody's way, you know, in that part of the house' . Mr Darcy looked a little ashamed of his aunt's ill-breeding, and made no answer."(Ch 31)
Slide 24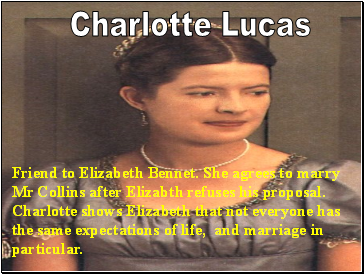 Charlotte Lucas
Friend to Elizabeth Bennet. She agrees to marry Mr Collins after Elizabth refuses his proposal. Charlotte shows Elizabeth that not everyone has the same expectations of life, and marriage in particular.
Slide 25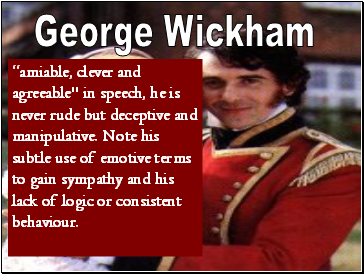 George Wickham
"amiable, clever and agreeable" in speech, he is never rude but deceptive and manipulative. Note his subtle use of emotive terms to gain sympathy and his lack of logic or consistent behaviour.
Slide 26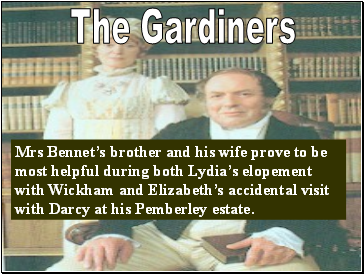 The Gardiners
Mrs Bennet's brother and his wife prove to be most helpful during both Lydia's elopement with Wickham and Elizabeth's accidental visit with Darcy at his Pemberley estate.
Slide 27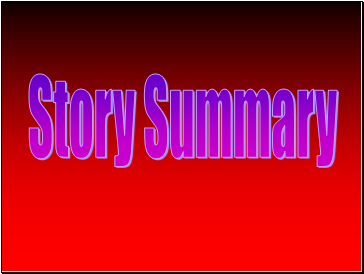 Story Summary
Slide 28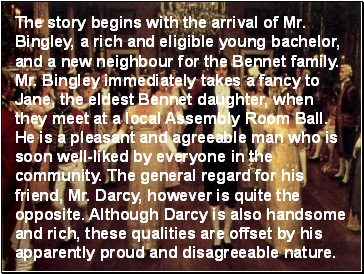 The story begins with the arrival of Mr. Bingley, a rich and eligible young bachelor, and a new neighbour for the Bennet family. Mr. Bingley immediately takes a fancy to Jane, the eldest Bennet daughter, when they meet at a local Assembly Room Ball. He is a pleasant and agreeable man who is soon well-liked by everyone in the community. The general regard for his friend, Mr. Darcy, however is quite the opposite. Although Darcy is also handsome and rich, these qualities are offset by his apparently proud and disagreeable nature.
Slide 29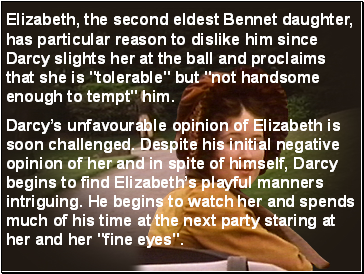 Elizabeth, the second eldest Bennet daughter, has particular reason to dislike him since Darcy slights her at the ball and proclaims that she is "tolerable" but "not handsome enough to tempt" him.
Darcy's unfavourable opinion of Elizabeth is soon challenged. Despite his initial negative opinion of her and in spite of himself, Darcy begins to find Elizabeth's playful manners intriguing. He begins to watch her and spends much of his time at the next party staring at her and her "fine eyes".