Pride and prejudice
Page
7
Upon her return to the parsonage, Elizabeth decides to reread Jane's melancholy letters and ponder over Darcy's arrogant conduct. She is in the midst of this when she is interrupted by the arrival of Mr. Darcy himself. After some brief statements of greeting, he begins pacing around the room until, suddenly, he bursts out into a declaration of love for her.
Elizabeth is amazed and stunned, not only by this announcement, but also by Darcy's insulting method of proposal. Angrily, she refuses him.
Slide 38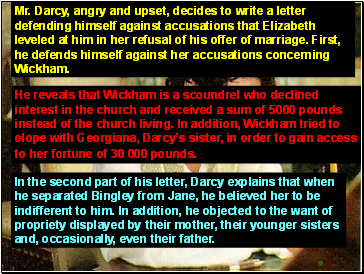 Mr. Darcy, angry and upset, decides to write a letter defending himself against accusations that Elizabeth leveled at him in her refusal of his offer of marriage. First, he defends himself against her accusations concerning Wickham.
He reveals that Wickham is a scoundrel who declined interest in the church and received a sum of 5000 pounds instead of the church living. In addition, Wickham tried to elope with Georgiana, Darcy's sister, in order to gain access to her fortune of 30 000 pounds.
In the second part of his letter, Darcy explains that when he separated Bingley from Jane, he believed her to be indifferent to him. In addition, he objected to the want of propriety displayed by their mother, their younger sisters and, occasionally, even their father.
Slide 39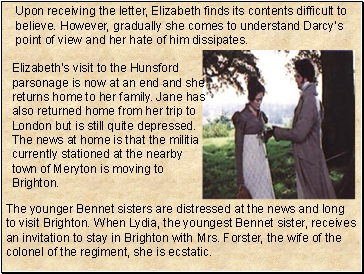 Upon receiving the letter, Elizabeth finds its contents difficult to believe. However, gradually she comes to understand Darcy's point of view and her hate of him dissipates.
Elizabeth's visit to the Hunsford parsonage is now at an end and she returns home to her family. Jane has also returned home from her trip to London but is still quite depressed. The news at home is that the militia currently stationed at the nearby town of Meryton is moving to Brighton.
The younger Bennet sisters are distressed at the news and long to visit Brighton. When Lydia, the youngest Bennet sister, receives an invitation to stay in Brighton with Mrs. Forster, the wife of the colonel of the regiment, she is ecstatic.
Slide 40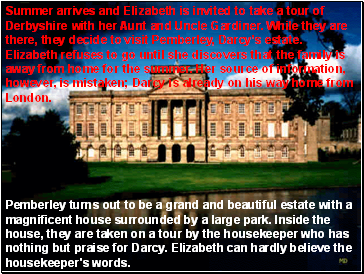 Pemberley turns out to be a grand and beautiful estate with a magnificent house surrounded by a large park. Inside the house, they are taken on a tour by the housekeeper who has nothing but praise for Darcy. Elizabeth can hardly believe the housekeeper's words.
Summer arrives and Elizabeth is invited to take a tour of Derbyshire with her Aunt and Uncle Gardiner. While they are there, they decide to visit Pemberley, Darcy's estate. Elizabeth refuses to go until she discovers that the family is away from home for the summer. Her source of information, however, is mistaken; Darcy is already on his way home from London.
Slide 41