Pride and prejudice
Page
2
Charles Bingley returns from London and proposes to Jane. Bingley and Jane are married at the same time as Darcy and Elizabeth.
Everyone lives happily ever after.
Slide 7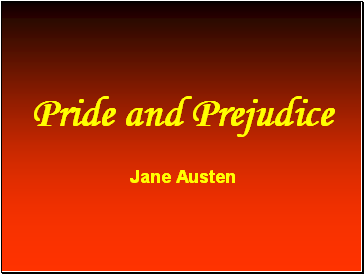 Pride and Prejudice
Jane Austen
Slide 8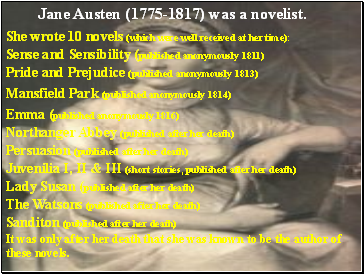 Jane Austen (1775-1817) was a novelist.
It was only after her death that she was known to be the author of these novels.
She wrote 10 novels (which were well received at her time):
Sense and Sensibility (published anonymously 1811)
Pride and Prejudice (published anonymously 1813)
Mansfield Park (published anonymously 1814)
Emma (published anonymously 1816)
Northanger Abbey (published after her death)
Persuasion (published after her death)
Juvenilia I, II & III (short stories, published after her death)
Lady Susan (published after her death)
The Watsons (published after her death)
Sanditon (published after her death)
Slide 9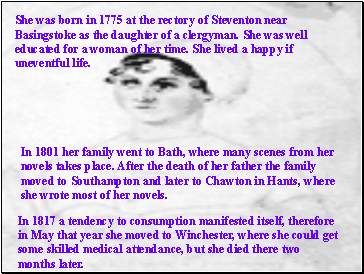 She was born in 1775 at the rectory of Steventon near Basingstoke as the daughter of a clergyman. She was well educated for a woman of her time. She lived a happy if uneventful life.
In 1801 her family went to Bath, where many scenes from her novels takes place. After the death of her father the family moved to Southampton and later to Chawton in Hants, where she wrote most of her novels.
In 1817 a tendency to consumption manifested itself, therefore in May that year she moved to Winchester, where she could get some skilled medical attendance, but she died there two months later.
Slide 10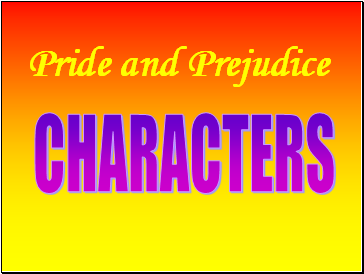 Characters
Pride and Prejudice
Slide 11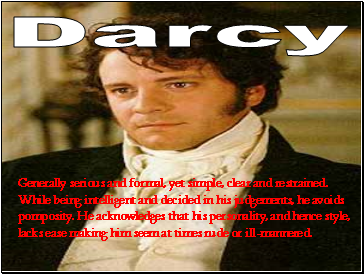 Darcy
Generally serious and formal, yet simple, clear and restrained. While being intelligent and decided in his judgements, he avoids pomposity. He acknowledges that his personality, and hence style, lacks ease making him seem at times rude or ill-mannered.
Slide 12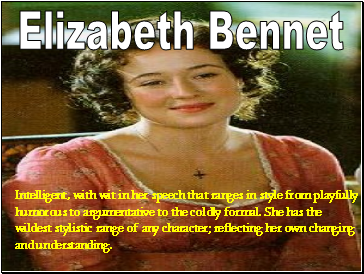 Elizabeth Bennet
Intelligent, with wit in her speech that ranges in style from playfully humorous to argumentative to the coldly formal. She has the wildest stylistic range of any character; reflecting her own changing and understanding.
Slide 13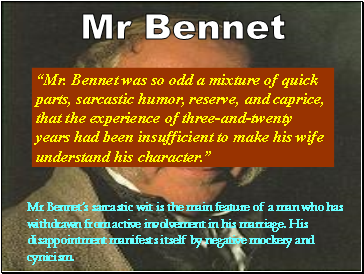 Mr Bennet
Mr Bennet's sarcastic wit is the main feature of a man who has withdrawn from active involvement in his marriage. His disappointment manifests itself by negative mockery and cynicism.
"Mr. Bennet was so odd a mixture of quick parts, sarcastic humor, reserve, and caprice, that the experience of three-and-twenty years had been insufficient to make his wife understand his character."