Pride and prejudice
Page
5
Slide 30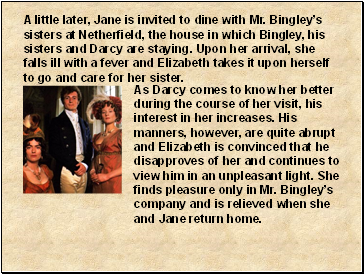 A little later, Jane is invited to dine with Mr. Bingley's sisters at Netherfield, the house in which Bingley, his sisters and Darcy are staying. Upon her arrival, she falls ill with a fever and Elizabeth takes it upon herself to go and care for her sister.
As Darcy comes to know her better during the course of her visit, his interest in her increases. His manners, however, are quite abrupt and Elizabeth is convinced that he disapproves of her and continues to view him in an unpleasant light. She finds pleasure only in Mr. Bingley's company and is relieved when she and Jane return home.
Slide 31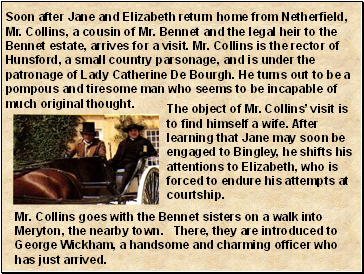 Soon after Jane and Elizabeth return home from Netherfield, Mr. Collins, a cousin of Mr. Bennet and the legal heir to the Bennet estate, arrives for a visit. Mr. Collins is the rector of Hunsford, a small country parsonage, and is under the patronage of Lady Catherine De Bourgh. He turns out to be a pompous and tiresome man who seems to be incapable of much original thought.
The object of Mr. Collins' visit is to find himself a wife. After learning that Jane may soon be engaged to Bingley, he shifts his attentions to Elizabeth, who is forced to endure his attempts at courtship.
Mr. Collins goes with the Bennet sisters on a walk into Meryton, the nearby town. There, they are introduced to George Wickham, a handsome and charming officer who has just arrived.
Slide 32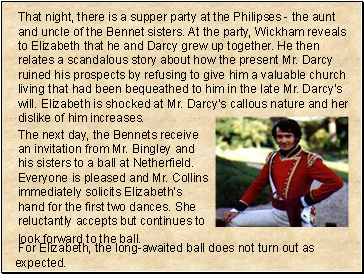 That night, there is a supper party at the Philipses - the aunt and uncle of the Bennet sisters. At the party, Wickham reveals to Elizabeth that he and Darcy grew up together. He then relates a scandalous story about how the present Mr. Darcy ruined his prospects by refusing to give him a valuable church living that had been bequeathed to him in the late Mr. Darcy's will. Elizabeth is shocked at Mr. Darcy's callous nature and her dislike of him increases.
The next day, the Bennets receive an invitation from Mr. Bingley and his sisters to a ball at Netherfield. Everyone is pleased and Mr. Collins immediately solicits Elizabeth's hand for the first two dances. She reluctantly accepts but continues to look forward to the ball.
For Elizabeth, the long-awaited ball does not turn out as expected.
Slide 33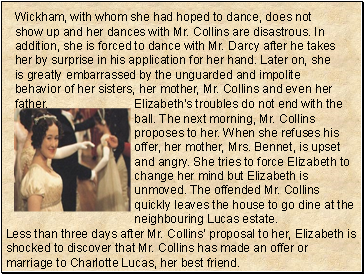 Wickham, with whom she had hoped to dance, does not show up and her dances with Mr. Collins are disastrous. In addition, she is forced to dance with Mr. Darcy after he takes her by surprise in his application for her hand. Later on, she is greatly embarrassed by the unguarded and impolite behavior of her sisters, her mother, Mr. Collins and even her father.
Elizabeth's troubles do not end with the ball. The next morning, Mr. Collins proposes to her. When she refuses his offer, her mother, Mrs. Bennet, is upset and angry. She tries to force Elizabeth to change her mind but Elizabeth is unmoved. The offended Mr. Collins quickly leaves the house to go dine at the neighbouring Lucas estate.