Pride and prejudice
Page
3
Slide 14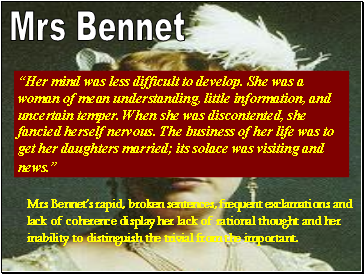 Mrs Bennet
Mrs Bennet's rapid, broken sentences, frequent exclamations and lack of coherence display her lack of rational thought and her inability to distinguish the trivial from the important.
"Her mind was less difficult to develop. She was a woman of mean understanding, little information, and uncertain temper. When she was discontented, she fancied herself nervous. The business of her life was to get her daughters married; its solace was visiting and news."
Slide 15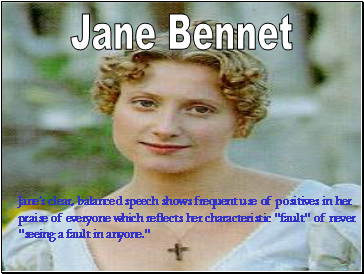 Jane Bennet
Jane's clear, balanced speech shows frequent use of positives in her praise of everyone which reflects her characteristic "fault" of never "seeing a fault in anyone."
Slide 16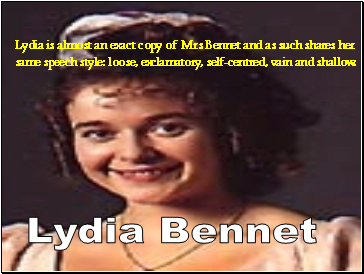 Lydia Bennet
Lydia is almost an exact copy of Mrs Bennet and as such shares her same speech style: loose, exclamatory, self-centred, vain and shallow.
Slide 17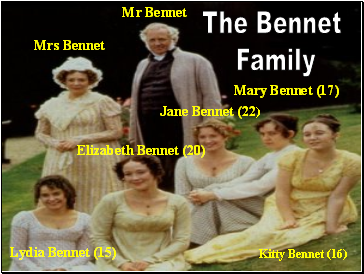 Mr Bennet
Mrs Bennet
Jane Bennet (22)
Elizabeth Bennet (20)
Lydia Bennet (15)
Mary Bennet (17)
Kitty Bennet (16)
The Bennet
Family
Slide 18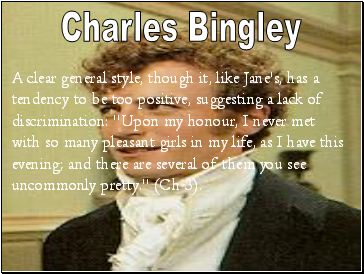 Charles Bingley
A clear general style, though it, like Jane's, has a tendency to be too positive, suggesting a lack of discrimination: "Upon my honour, I never met with so many pleasant girls in my life, as I have this evening; and there are several of them you see uncommonly pretty." (Ch 3).
Slide 19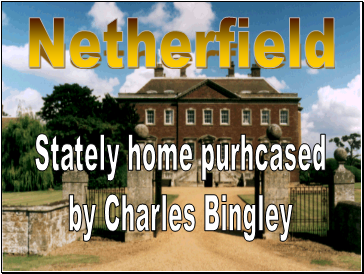 Netherfield
Stately home purhcased
by Charles Bingley
Slide 20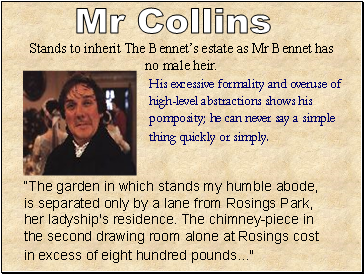 Mr Collins
"The garden in which stands my humble abode, is separated only by a lane from Rosings Park, her ladyship's residence. The chimney-piece in the second drawing room alone at Rosings cost in excess of eight hundred pounds ."
His excessive formality and overuse of high-level abstractions shows his pomposity; he can never say a simple thing quickly or simply.
Stands to inherit The Bennet's estate as Mr Bennet has no male heir.
Slide 21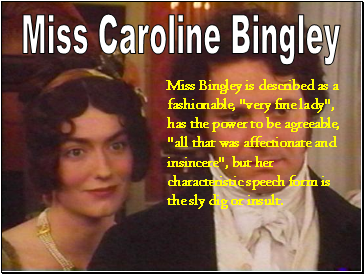 Miss Caroline Bingley
Miss Bingley is described as a fashionable, "very fine lady", has the power to be agreeable, "all that was affectionate and insincere", but her characteristic speech form is the sly dig or insult.
Slide 22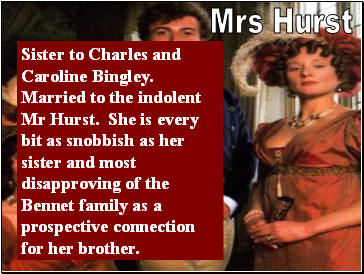 Mrs Hurst