Earth History
Page
5
Temperature
K
Venus
Earth
Mars
ICE
WATER
VAPOUR
Triple Point
1
10-6
200
380
Slide 35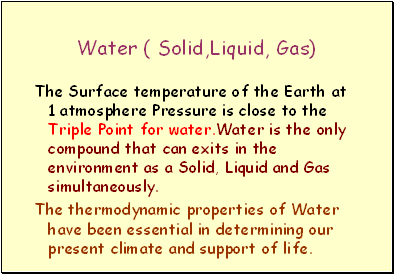 Water ( Solid,Liquid, Gas)
The Surface temperature of the Earth at 1 atmosphere Pressure is close to the Triple Point for water.Water is the only compound that can exits in the environment as a Solid, Liquid and Gas simultaneously.
The thermodynamic properties of Water have been essential in determining our present climate and support of life.
Slide 36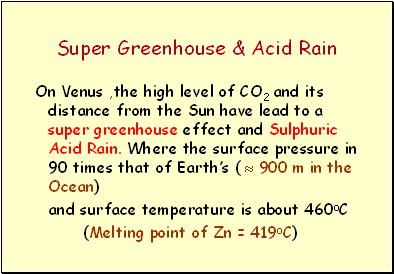 Super Greenhouse & Acid Rain
On Venus ,the high level of CO2 and its distance from the Sun have lead to a super greenhouse effect and Sulphuric Acid Rain. Where the surface pressure in 90 times that of Earth's ( 900 m in the Ocean)
and surface temperature is about 460oC
(Melting point of Zn = 419oC)
Slide 37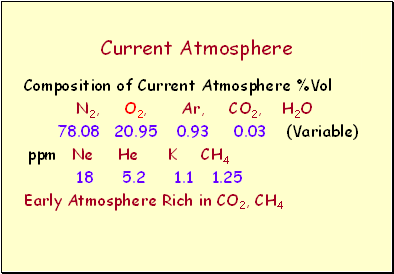 Current Atmosphere
Composition of Current Atmosphere %Vol
N2, O2, Ar, CO2, H2O
78.08 20.95 0.93 0.03 (Variable)
ppm Ne He K CH4
18 5.2 1.1 1.25
Early Atmosphere Rich in CO2, CH4
Slide 38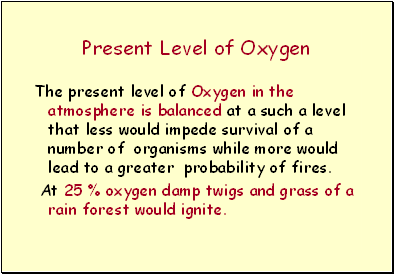 Present Level of Oxygen
The present level of Oxygen in the atmosphere is balanced at a such a level that less would impede survival of a number of organisms while more would lead to a greater probability of fires.
At 25 % oxygen damp twigs and grass of a rain forest would ignite.
Slide 39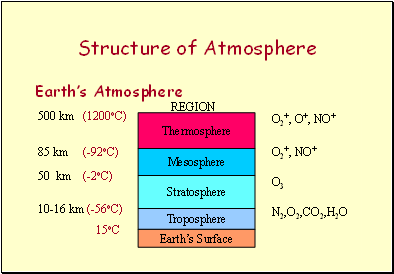 Structure of Atmosphere
Earth's Atmosphere
Earth's Surface
Troposphere
Stratosphere
Mesosphere
Thermosphere
REGION
10-16 km (-56oC)
50 km (-2oC)
85 km (-92oC)
500 km (1200oC)
15oC
O3
O2+, NO+
O2+, O+, NO+
N2,O2,CO2,H2O
3 x 10-6 atm
0.001 atm
0.1 atm
1atm
Slide 40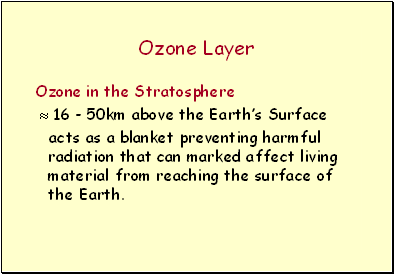 Ozone Layer
Ozone in the Stratosphere
 16 - 50km above the Earth's Surface
acts as a blanket preventing harmful radiation that can marked affect living material from reaching the surface of the Earth.
Slide 41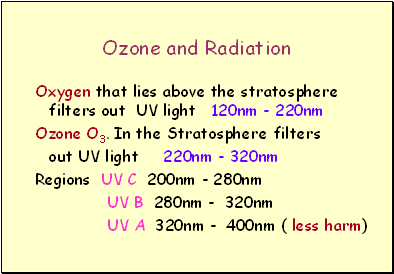 Ozone and Radiation
Oxygen that lies above the stratosphere filters out UV light 120nm - 220nm
Ozone O3. In the Stratosphere filters
out UV light 220nm - 320nm
Regions UV C 200nm - 280nm
UV B 280nm - 320nm
UV A 320nm - 400nm ( less harm)
Slide 42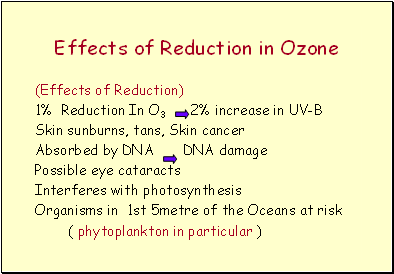 Effects of Reduction in Ozone