Development
Page
3
Slide 14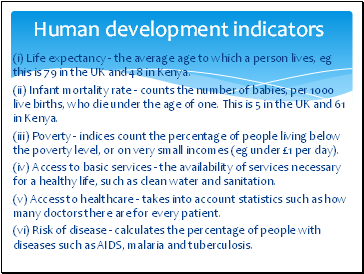 Human development indicators
(i) Life expectancy - the average age to which a person lives, eg this is 79 in the UK and 48 in Kenya.
(ii) Infant mortality rate - counts the number of babies, per 1000 live births, who die under the age of one. This is 5 in the UK and 61 in Kenya.
(iii) Poverty - indices count the percentage of people living below the poverty level, or on very small incomes (eg under £1 per day).
(iv) Access to basic services - the availability of services necessary for a healthy life, such as clean water and sanitation.
(v) Access to healthcare - takes into account statistics such as how many doctors there are for every patient.
(vi) Risk of disease - calculates the percentage of people with diseases such as AIDS, malaria and tuberculosis.
Slide 15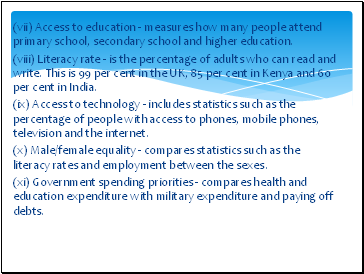 (vii) Access to education - measures how many people attend primary school, secondary school and higher education.
(viii) Literacy rate - is the percentage of adults who can read and write. This is 99 per cent in the UK, 85 per cent in Kenya and 60 per cent in India.
(ix) Access to technology - includes statistics such as the percentage of people with access to phones, mobile phones, television and the internet.
(x) Male/female equality - compares statistics such as the literacy rates and employment between the sexes.
(xi) Government spending priorities - compares health and education expenditure with military expenditure and paying off debts.
Slide 16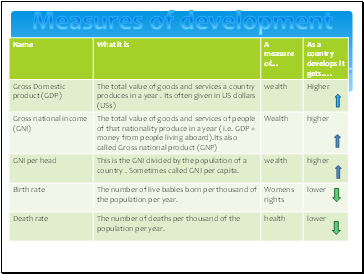 Measures of development
Slide 17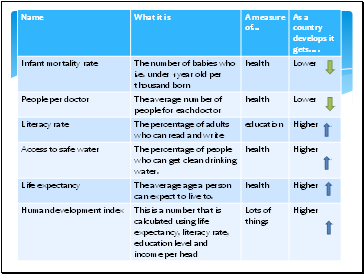 Slide 18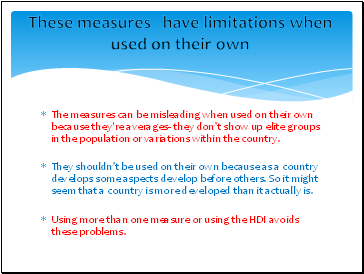 These measures have limitations when used on their own
The measures can be misleading when used on their own because they're averages- they donít show up elite groups in the population or variations within the country.
They shouldnít be used on their own because as a country develops some aspects develop before others. So it might seem that a country is more developed than it actually is.
Using more than one measure or using the HDI avoids these problems.
Slide 19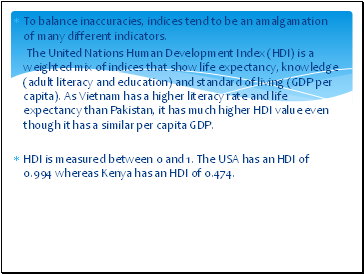 To balance inaccuracies, indices tend to be an amalgamation of many different indicators.
The United Nations Human Development Index (HDI) is a weighted mix of indices that show life expectancy, knowledge (adult literacy and education) and standard of living (GDP per capita). As Vietnam has a higher literacy rate and life expectancy than Pakistan, it has much higher HDI value even though it has a similar per capita GDP.