Second world war
Page
11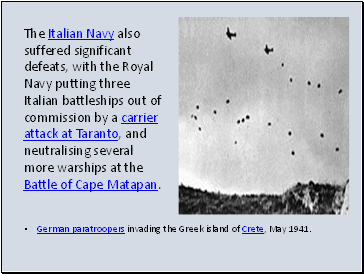 German paratroopers invading the Greek island of Crete, May 1941.
The Italian Navy also suffered significant defeats, with the Royal Navy putting three Italian battleships out of commission by a carrier attack at Taranto, and neutralising several more warships at the Battle of Cape Matapan.
Slide 62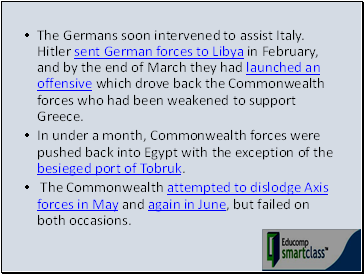 The Germans soon intervened to assist Italy. Hitler sent German forces to Libya in February, and by the end of March they had launched an offensive which drove back the Commonwealth forces who had been weakened to support Greece.
In under a month, Commonwealth forces were pushed back into Egypt with the exception of the besieged port of Tobruk.
The Commonwealth attempted to dislodge Axis forces in May and again in June, but failed on both occasions.
Slide 63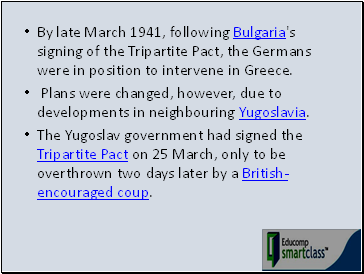 By late March 1941, following Bulgaria's signing of the Tripartite Pact, the Germans were in position to intervene in Greece.
Plans were changed, however, due to developments in neighbouring Yugoslavia.
The Yugoslav government had signed the Tripartite Pact on 25 March, only to be overthrown two days later by a British-encouraged coup.
Slide 64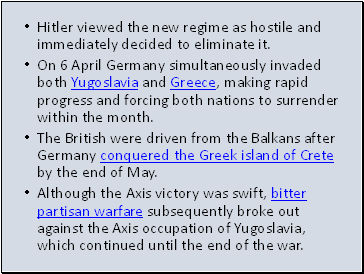 Hitler viewed the new regime as hostile and immediately decided to eliminate it.
On 6 April Germany simultaneously invaded both Yugoslavia and Greece, making rapid progress and forcing both nations to surrender within the month.
The British were driven from the Balkans after Germany conquered the Greek island of Crete by the end of May.
Although the Axis victory was swift, bitter partisan warfare subsequently broke out against the Axis occupation of Yugoslavia, which continued until the end of the war.
Slide 65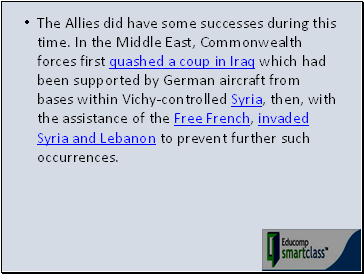 The Allies did have some successes during this time. In the Middle East, Commonwealth forces first quashed a coup in Iraq which had been supported by German aircraft from bases within Vichy-controlled Syria, then, with the assistance of the Free French, invaded Syria and Lebanon to prevent further such occurrences.
Slide 66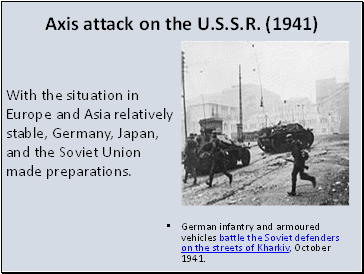 Axis attack on the U.S.S.R. (1941)
German infantry and armoured vehicles battle the Soviet defenders on the streets of Kharkiv, October 1941.
With the situation in Europe and Asia relatively stable, Germany, Japan, and the Soviet Union made preparations.
Slide 67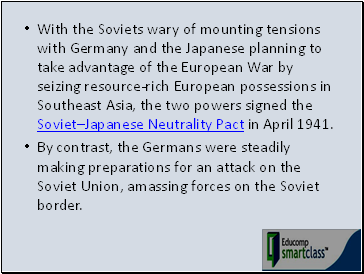 With the Soviets wary of mounting tensions with Germany and the Japanese planning to take advantage of the European War by seizing resource-rich European possessions in Southeast Asia, the two powers signed the Soviet–Japanese Neutrality Pact in April 1941.