Second world war
Page
14
Slide 77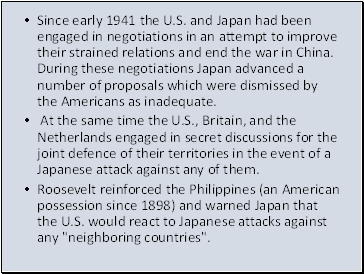 Since early 1941 the U.S. and Japan had been engaged in negotiations in an attempt to improve their strained relations and end the war in China. During these negotiations Japan advanced a number of proposals which were dismissed by the Americans as inadequate.
At the same time the U.S., Britain, and the Netherlands engaged in secret discussions for the joint defence of their territories in the event of a Japanese attack against any of them.
Roosevelt reinforced the Philippines (an American possession since 1898) and warned Japan that the U.S. would react to Japanese attacks against any "neighboring countries".
Slide 78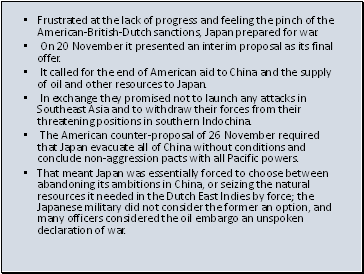 Frustrated at the lack of progress and feeling the pinch of the American-British-Dutch sanctions, Japan prepared for war.
On 20 November it presented an interim proposal as its final offer.
It called for the end of American aid to China and the supply of oil and other resources to Japan.
In exchange they promised not to launch any attacks in Southeast Asia and to withdraw their forces from their threatening positions in southern Indochina.
The American counter-proposal of 26 November required that Japan evacuate all of China without conditions and conclude non-aggression pacts with all Pacific powers.
That meant Japan was essentially forced to choose between abandoning its ambitions in China, or seizing the natural resources it needed in the Dutch East Indies by force; the Japanese military did not consider the former an option, and many officers considered the oil embargo an unspoken declaration of war.
Slide 79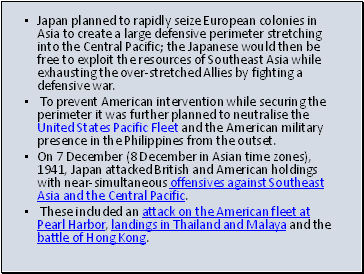 Japan planned to rapidly seize European colonies in Asia to create a large defensive perimeter stretching into the Central Pacific; the Japanese would then be free to exploit the resources of Southeast Asia while exhausting the over-stretched Allies by fighting a defensive war.
To prevent American intervention while securing the perimeter it was further planned to neutralise the United States Pacific Fleet and the American military presence in the Philippines from the outset.
On 7 December (8 December in Asian time zones), 1941, Japan attacked British and American holdings with near-simultaneous offensives against Southeast Asia and the Central Pacific.
These included an attack on the American fleet at Pearl Harbor, landings in Thailand and Malaya and the battle of Hong Kong.
Slide 80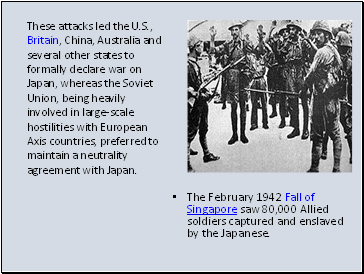 The February 1942 Fall of Singapore saw 80,000 Allied soldiers captured and enslaved by the Japanese.
These attacks led the U.S., Britain, China, Australia and several other states to formally declare war on Japan, whereas the Soviet Union, being heavily involved in large-scale hostilities with European Axis countries, preferred to maintain a neutrality agreement with Japan.