Second world war
Page
18
A few months later, the Allies commenced an attack of their own in Egypt, dislodging the Axis forces and beginning a drive west across Libya.
This attack was followed up shortly after by an Anglo-American invasion of French North Africa, which resulted in the region joining the Allies.
Hitler responded to the French colony's defection by ordering the occupation of Vichy France; although Vichy forces did not resist this violation of the armistice, they managed to scuttle their fleet to prevent its capture by German forces.
The now pincered Axis forces in Africa withdrew into Tunisia, which was conquered by the Allies in May 1943.
Slide 97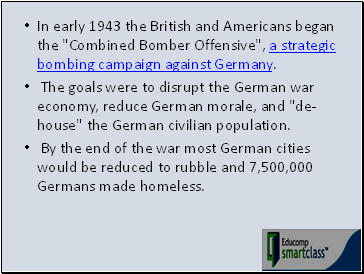 In early 1943 the British and Americans began the "Combined Bomber Offensive", a strategic bombing campaign against Germany.
The goals were to disrupt the German war economy, reduce German morale, and "de-house" the German civilian population.
By the end of the war most German cities would be reduced to rubble and 7,500,000 Germans made homeless.
Slide 98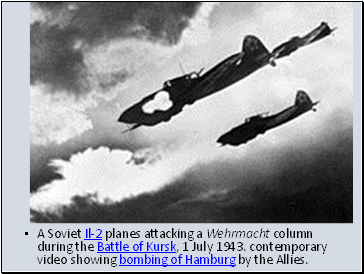 A Soviet Il-2 planes attacking a Wehrmacht column during the Battle of Kursk, 1 July 1943. contemporary video showing bombing of Hamburg by the Allies.
Slide 99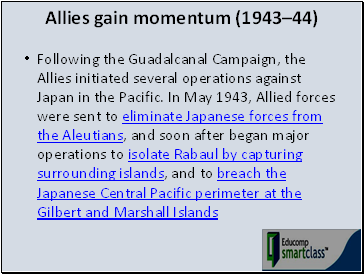 Allies gain momentum (1943–44)
Following the Guadalcanal Campaign, the Allies initiated several operations against Japan in the Pacific. In May 1943, Allied forces were sent to eliminate Japanese forces from the Aleutians, and soon after began major operations to isolate Rabaul by capturing surrounding islands, and to breach the Japanese Central Pacific perimeter at the Gilbert and Marshall Islands
Slide 100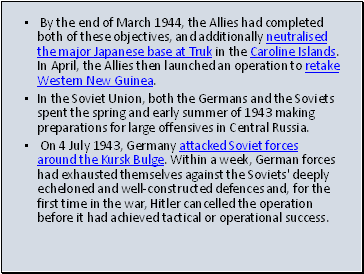 By the end of March 1944, the Allies had completed both of these objectives, and additionally neutralised the major Japanese base at Truk in the Caroline Islands. In April, the Allies then launched an operation to retake Western New Guinea.
In the Soviet Union, both the Germans and the Soviets spent the spring and early summer of 1943 making preparations for large offensives in Central Russia.
On 4 July 1943, Germany attacked Soviet forces around the Kursk Bulge. Within a week, German forces had exhausted themselves against the Soviets' deeply echeloned and well-constructed defences and, for the first time in the war, Hitler cancelled the operation before it had achieved tactical or operational success.
Slide 101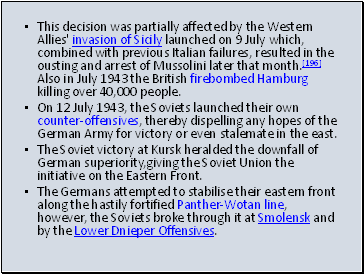 This decision was partially affected by the Western Allies' invasion of Sicily launched on 9 July which, combined with previous Italian failures, resulted in the ousting and arrest of Mussolini later that month.[196] Also in July 1943 the British firebombed Hamburg killing over 40,000 people.